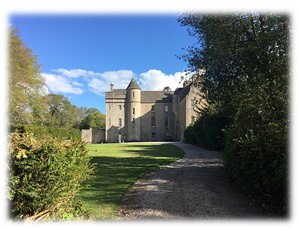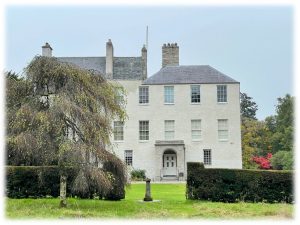 Kemnay House has been home to the Burnett family for over 300 years. It is a fine example of Scottish architectural progression from the 16th to 19th Century.
Kemnay was acquired by Thomas Burnett, a nephew of Sir Thomas Burnett of Leys, and the first baronet in 1688. Sadly, Thomas only managed to live his last few months at Kemnay before leaving the estate to his son, also named Thomas.
Through the following 3 centuries, Kemnay passed down a list of descendants that included both controversial and illustrious successors, some of whom became celebrated in military, legal, horticultural and diplomatic circles.
For the past three generations, artists have lived and worked at Kemnay, and the House is now open to the public 28 days a year (after being awarded Heritage Status by the British Government in 2019).
Visitors are welcomed into the front hall, which is now also a gallery and shop exhibiting a wide range of crafts, landscape and botanical prints and paintings by artists who live locally or have links to the Burnett family.
The grounds include woodland walks and a nature trail that takes visitors through the collection of venerable trees planted by George Burnett, an avid horticulturalist in the 18th Century and who married his cousin, Helen Burnett of Leys.
Kemnay is managed by Alexandra Burnett, her husband Nick, and the Friends of Kemnay House (a voluntary community group that helps make opening of the house and events possible). All profits go into restoration projects and the continued development of public access.
Kemnay House is only 14 miles from Crathes.