Over the past year or so, we have enjoyed visits from several members of an Australian family. Colin and Maree Burnett-Dorn in 2014 more recently, Carmel Basset. this year we welcomed Carmel's brother Kevin twomey son of Thelma Joyce Burnett and grandson of William Abraham Burnett and Kevin's wife, Merilyn.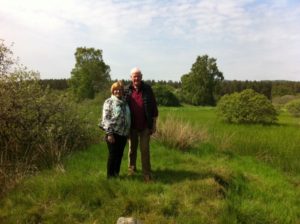 All are descended from William  Burnett who was born 1823 in Aberdeen and died in 1893 in Illabarook (near Cape Clear), Cictoria.  He married Margaret Mcfarlane in 1849 from Iona in Scotland and who died in 1900 in Illabarook. William was a miner and they spent a lot of their early years around the goldfields of Bendigo, Ballarat and Illabrook areas.
As with most of our visitors to Crathes, we have to visit the Loch of Leys to view the Crannog.
From Robynne Fletcher and her daughter Jade.
After years of hearing about Crathes castle from my Great Aunt Marah, herself a direct member of the Burnett family, my mother and I decided to visit during a recent trip to Scotland to see friends and Marah's memorial plaque at Kemnay House.
We chose a rather spectacular weekend, full of sunshine and blue skies, and were delighted to meet Victor, the son of James Burnett, and also fortunate enough to get a full tour of the castle by him, equipped with notes on each room!
One of the things we loved is that you could really imagine the family living there – lots of warmth and charm, nooks and crannies.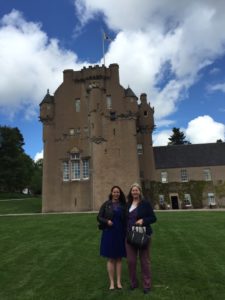 It was wonderful to see the castle bustling with visitors, from neighbouring cities and villages to coach loads of tourists from Germany and America (among others).
After a lovely tour of the castle, which is clearly beloved by the very knowledgeable and enthusiastic National Trust staff, we had a stroll around the beautiful gardens, humming with bees and wildlife.
We finished the day with an excellent tea in the cafe and some postcards from the gift shop, and very much look forward to our next visit, particularly to see the ever growing additions to the newly revamped family room.