and the ugliest tree on earth
The Holly and the Horn includes something of the Cecil side of my family. Although not Burnett ancestry, it does form part of that for future descendants as does the Russian connection.
When recently staying with my brother, Arthur, near Newmarket, we went to visit Stowlangtoft Hall near Bury St Ednunds in Suffolk. This was the home of my great grandmother, Mary Cecil, the 2nd Baroness of Hackney. 1857 – 1919. She was a noted   charity worker and ornithologist having the black crowned crane, balearica pavonia ceciliae named in her honour.
She was chiefly renowned as an archaeologist  and interest she inherited from her father together with a large collection of artefacts. During her excavation at Aswan, she uncovered 32 tombs which  became known as the 'Cecil Tombs'..
The family had estates in Norfolk and on one occasion, Howard Carter, visited the estate museum and was inspired to become an archaeologist. As a consequence, the family encouraged and supported him during his early days as an archaeologist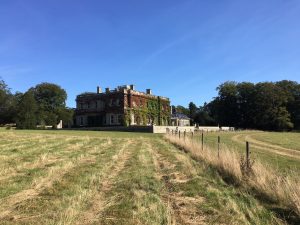 Mary was one of six sisters and their upbringing at home instilled in her the wish to devote much of her live to caring for the poor, the needy and the general welfare of society. At a young age, she became interested in Eqypt from her father's collections and in 1871, she accompanied her parents on a visit to the country. Her journal on this trip to Egypt is kept in Biltmore House in Asheville, North Carolina.
Her son and heir, my grandfather, The Hon. Captain William Amherst Cecil was killed in the Great war in 1914 Mary received an OBE in 1919 for her charitable works . She died in the same year and following which Sotheby's held what they described as "the most important sale of Egyptian antiquities ever held in England"
Stowlangtoft Hall is now a very fine nursing home and we were shown round by the present owners, John and Cath Catchpole. What we overlooked to see because I was unaware of it until later, was what has become famous as the ugliest tree in the world. The Stowlangtoft Horror Tree .