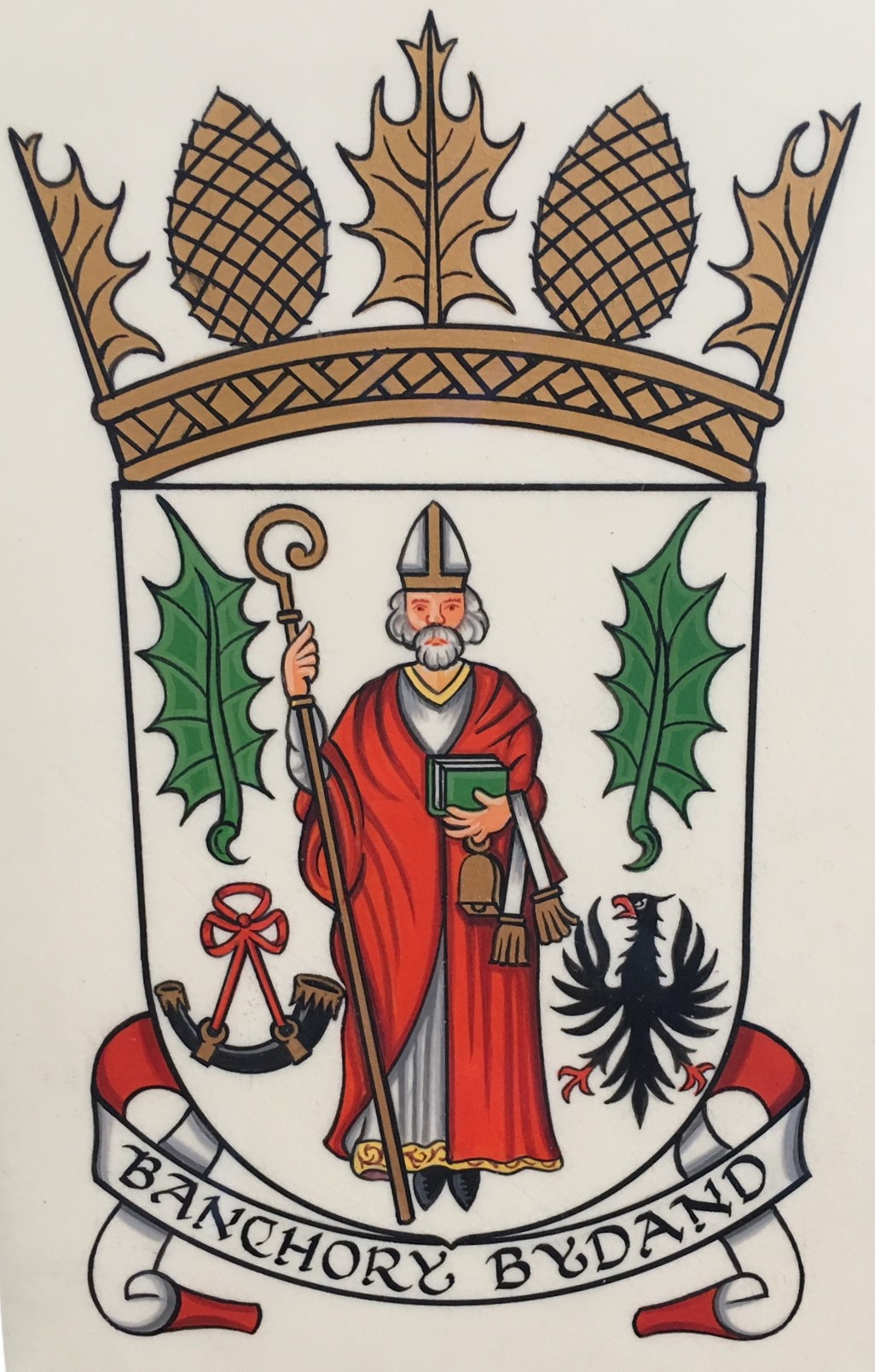 A Coat of Arms for the Banchory Community Council
After many years of endeavour to persuade Banchory to adopt a Coat of Arms, there has been success at last. On May 23rd, the Lord Lyon, King of Arms, Dr Joseph Morrow, presented the Arms to the Banchory Community Council. The ceremony, which took place at the Banchory Lodge Hotel, included the presence of many local dignitaries and supporters of local heritage and included the Lord Lieutenant of Kincardineshire, Carol Kinghorn and the Convenor of Aberdeenshire Council, William Howatson. The presentation was made to Banchory Community Council chairperson, Mrs Mary Lennox.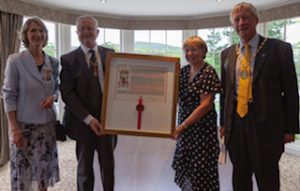 The formalities ended with a piece of fiddle music, The Banchory Coat of Arms, which was composed and played by renowned local fiddler, Paul Anderson.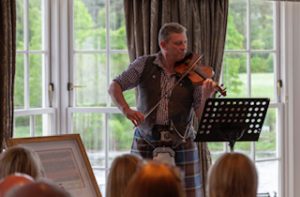 The Coat of Arms is a conversion of the previous Burgh Coat of Arms to that of a community. The detail of the arms includes the Burnett of Leys Arms, and the eagle of Ramsay. Sir Robert Burnett of Leys, the 7th Baronet sold part of Banchory to his brother, General William Burnett, both being the sons of Sir Thomas Burnett and Catherine Ramsay. William's great nephew, William Burnett Ramsay, inherited the Banchory Lodge estate. However, the principal image is that of St Ternan, a pict who founded the settlement of Banchory-Ternan in the 5th or 6th century when he created a Christian College beside the River Dee and Where Banchory exists today and on a site close to the graveyard and where remains of Celtic foundations can be seen in the form of several carved stones
I was privileged in being permitted to address the Community Council about a year ago along with my good friend and herald, Gordon Casely. In that presentation, I mentioned that I had carried out a survey at the Las Vegas Highland Games four years ago and 100% of those whose opinion I asked were in favour of a town having a coat of arms as opposed to a logo and strap-line. Thanks to all those who helped with the survey and who were not necessarily Burnetts, for your contribution.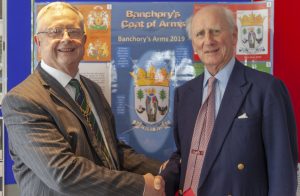 It may be of interest that I have letters relating to the original Coat of Arms to the Burgh of Banchory. It was arranged by the Provost at the time and who was blessed with the name of James Burnett. The Burnetts were not close relations, but the families have long been friends. I have a letter dated 1933 from a herald and future Lord Lyon, Thomas Innes of Learney, to Provost Burnett, with a proposed design for the arms. The eventual grant was in 1939 and so these projects can take longer than might be thought necessary!
St Ternan has been celebrated on June 12th each year when a fair was held in his honour. On the 12th of June each year a Fair was held in the Saint's honour.  The grant of the Coat of Arms is going to be celebrated at this year's event which will be on June 15th