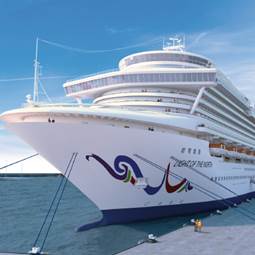 Aberdeen Harbour have announced the name of their South Harbour Quays
The Royal Family are amongst a range of North East dignitaries and organisations who have given their blessing for the four new super-quays at Aberdeen's £350 million South Harbour to be named after some of the most iconic castles in Scotland.
Aberdeen Harbour Board is proud to announce that the four quays in the new port will be named Balmoral, Dunnottar, Crathes and Castlegate, in honour of the history and heritage of the north-east of Scotland.
As part of its commitment to ensure continued engagement with all stakeholders during the project, Aberdeen Harbour Board approached the historic and current owners of each of the sites to ensure they were happy with the names mirroring their iconic homes– with all welcoming the accolade.
Chris Bain, External Relations Director, Aberdeen Harbour Board, said: "We are delighted to announce the names of our new quays. Aberdeen and the north-east of Scotland has so much to offer visitors, and Balmoral, Dunnottar, Crathes and are known, not just in the north-east of Scotland but further nationally and internationally. We also wanted to highlight Aberdeen City's rich history through the use of the Castlegate name.
"We are thrilled to have received a welcoming reception from all of those we approached."
The Burnett family has its principal historic seat at Crathes Castle, which is now owned and cared for by the National Trust for Scotland.
James Burnett of Leys, Representor of the House and Chief of the Name of Burnett of Leys, said: "Crathes has always been a very special place to return homeward to after a long-voyage abroad.  We hope many visitors will follow again Crathes-way from this quay to see one of the jewels of Scotland's heritage for themselves, set amidst the tranquil setting of Royal Deeside."
George Pearson, whose family has owned Dunnottar Castle since 1919, said: "Dunnottar Castle is delighted to be associated with this exciting new development in Aberdeen. This is a fantastic opportunity for the tourism industry and is sure to bring benefits not just for Aberdeen, but for Aberdeenshire and the North East of Scotland".
Dunnottar Quay is to be the 400 metre long east quay with Crathes Quay to be the 175 metre long south quay. Balmoral Quay, the west quay, will be 300 metres long and Castlegate Quay, the north quay, will be 540 metres long.
Chris Foy, chief executive of VisitAberdeenshire added: "Naming the new quays of the harbour after four of the North-east's most famous locations is a fitting acknowledgement of the rich and fascinating history which attracts many visitors to the destination to experience these impressive fortresses and sights.