The Banner is pleased to pass on information from Beth Gay Freeman although it may be technically impractical to include her newsletter on the Banner. The Family Tree contains a wealth of Scottish-ness and undoubtedly would be of interest to many readers.
The latest edition has some interesting things…and something that everyone needs to know.It is how to get "Information" for your cell or land line phone for FREE.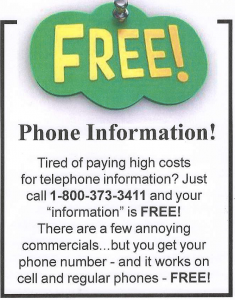 Beth says that It works as she tried it just a few moments ago.  You do get to listen to an ad or two, but  you get the phone number you need for FREE.  She made a note for her wallet, so, she can use the Cell phone if sheaway and need a number.  In essence, you get a phone number lookup and  you pay for it by listening to an ad or two.
She thinks Information charges here are about $1.50 a number.  So, you "earn" $1.50 every time you  use their service.  Not bad.
Beth hopes you know you may forward this BNFT to anyone you wish, from your best friend to your entire Scottish Clan membership.  Free, no charge and no strings.
You may visit https://electricscotland.com/bnft/archives and play amongst them so long as you wish.
If anyone wishes to contact Beth
Beth Gay Freeman, GOTJ;  Dame Beth, Kingdome of Raknar;  FSA Scot
Mo Leannon
688 Camp Yonah Road
Clarkesville, GA 30523
Telephone:  NEW! 706-839-3881
Beth's email:  bethscribble@aol.com