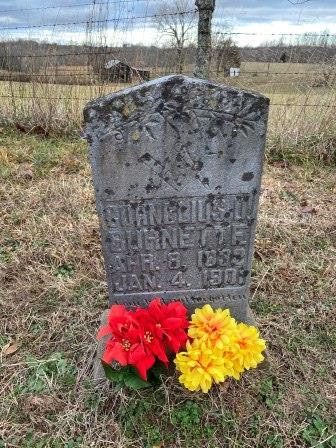 By Joanne Rae Thompson
My name is Joanna Rae Thompson from Crab Orchard, Kentucky. I am the youngest of eight children in my family. I am writing about my family history and still currently researching the past which is not so easy. I will start with my father Burgess Glenn Thompson Sr. who was born September 6th, 1924 in Rockcastle, Kentucky and passed away October 1st, 2001. His father was Carey Washington Thompson who was called "Cay" was born in Pulaski County, Kentucky and passed away September 25th, 1964 in Eubank, Kentucky.  Carey's mother was Nancy A. Burnett born in Knox County, Kentucky April 30th, 1860 and passed away March 10th, 1932 who was nicknamed "Nannie" Thompson. Her husband who was James Bodle Thompson born October 3rd, 1852 in Rockcastle, Kentucky and passed away March 23rd, 1927 and he is buried beside Nancy at Friendship Cemetery in Rockcastle County, Kentucky.  Nancy's father was Cornelius Donaldson "Neal" Burnette and Cornelius's father Fleming S. Burnett line goes back to John Burnett Sr. who sailed from Scotland in the early 1600s to settle in Virginia.  From there the line grew with many sons and daughters to carry on the Burnett and Johnston name in America. A lot of this family line has been in the military, as well as teachers, and ministers.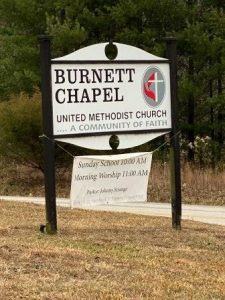 Focusing more on Cornelius Burnette who was a minister preaching for Burnett Chapel; he was also a Mason at the Woodstock Masonic Lodge in Pulaski, Kentucky. There, he was a part of their history as a Senior Warden for the lodge when it started in 1889. On Cornelius's gravestone is the masonic symbol and the branch with leaves at the top. My father would take me to visit the graveyards when I was around 8 years old and he would tell ghost stories during the drive there. So of course, I was always scared to death when we arrived there. He would always focus on telling me about his grandparents and great grandparents while visiting their gravestones.
Cornelius Burnette's gravestone at Burnett Chapel Cemetery in Pulaski County, Kentucky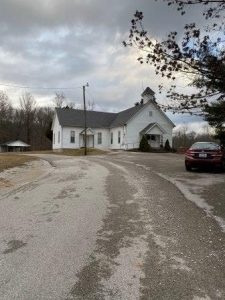 This is Burnett Chapel in Pulaski County close to Rockcastle County line.