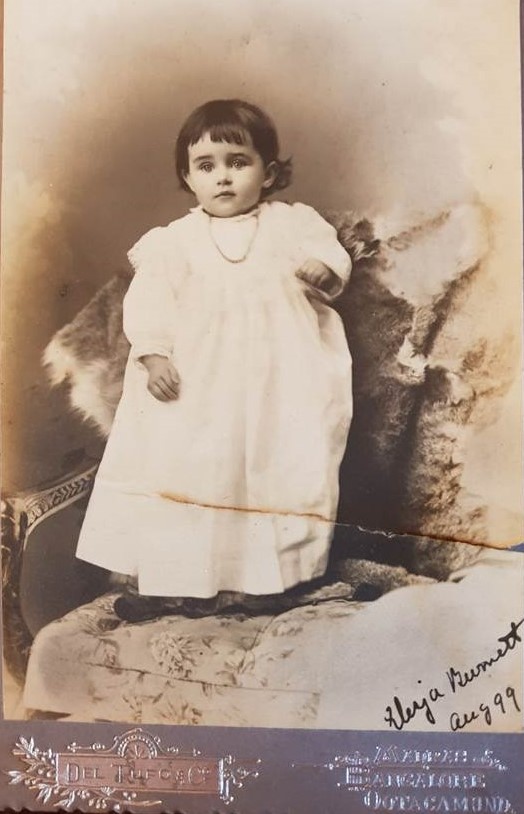 Who is she?
A friend and distant Burnett of Monboddo relation recently asked if I was able to identify this very beautiful young lady whose photograph had been found in his family archive. It is of a young girl of approximately 2-3 years of age standing in the corner of a sofa. Handwritten in the right- hand bottom corner of photograph is the wording: Elesja Burnett. Aug 99.
"Elesja" is a known, but uncommon, girl's first name. In the Burnett family the name "Eliza" is frequently found.
From the quality of the photograph and child's dress it is more likely that it was taken in 1899 rather than the Aug 99 being a reference to her birth date. The mount of the photograph has a metallic finish which makes the wording at the base difficult to read but enlargement showed Del Turo & Co at the left base and the placenames Bangalore and Ootacamond at the right base. This suggests that the photograph was probably taken in India. Ootacamond (also known as Oots) is said to have been a favourite recreational location for members of the East India Company.
No record of the birth or any other lifetime event in India of an Elesja Burnett has been located. A British India Office record showed that an Elizabeth Mary Burnett was born in 1898 and baptised in St Stephens Oocacamond in that year. Father's name was given as James Burnett. No proof that this is the child in the photograph but she would almost certainly have been a Burnett of Monboddo.
Many of the Burnetts of Monboddo are known to have some connection with India e.g. James Cumine Burnett, 5th of Monboddo, was with the East India Company in India and married in Bombay in 1840. His son was James Shank Burnett.
Extensive searches in a range of records and other information sources have not identified a child by the name of Elesja Burnett in India or in the UK. This would seem to suggest that the handwritten name on the photograph could have been added at some later time in order to identify the subject amongst other family photographs and/or that the writer may have mis-spelt the Christian name.
Given that the British India Office recorded an Elizabeth Mary Burnett having been born on 13 January 1898 and baptised on 6 June 1898 in Ootacamund (which was the location printed on the photographic company's picture mount) and that her parents were James Burnett and Cecilia Mary this entry was further investigated. In the process some additional information on individuals was noted which adds to that already known about members of the Burnetts of Monboddo family line.
The British India Office recorded that James Burnett Burnett, (described as a tea and coffee planter succeeded his father to the estate of Monboddo in Scotland in 1905) born 1867, married Cecilia Mary Lydia Antonia Ramsey (Ramsay) in Ootacamund, Madras, India on 20 July 1897. Their children include Elizabeth Mary Burnett (as mentioned above) born on 13 January 1898. Sadly, she is recorded as having died in Ootacamund on 4 May 1900.
James Burnett Burnett (James Shank Burnett) was killed by an elephant whilst on a visit to India with his wife in December 1910. Although it may seem inappropriate to record that tragedy together with the above, I hope that the passage of time will allow it to not to be so regarded.
The incident was recorded in the press. "Mr J Burnett Burnett of Aniamad was walking through the estate with one of his coolies when they became aware of the approach of an elephant so close that there was not a minute to think of any way of escape. They rushed to a tree, the Cooly seizing Mr Burnett's hand. It was too late' the elephant was upon them. It dragged Mr Burnett down and crushed the life out or him. "
An informed letter describes the incident in greater detail. "Mr Burnett saw a bison or stag sambur about a mile from his bungalow and went out to shoot it. On the way to the hill, he had to pass through a belt of heavy jungle. The shikaree heard the elephant trumpet in it and advised Mr Burnett not to go on. However, thinking that he could easily avoid the brute, he proceeded.
Elephant shooting was strictly prohibited and Mr Burnett was always singularly indifferent to elephants believing that they did not attack. He was an experienced big game hunter. He therefore attempted to avoid the animal, btu the brute got his wind and charged them. They ran and eventually found a tree from which the elephant dragged him and crushed him with its feet or head and killed him instantly. The shikaree escaped and ran back to Anaimad bungalow for help and to tell Mrs Burnett….. "