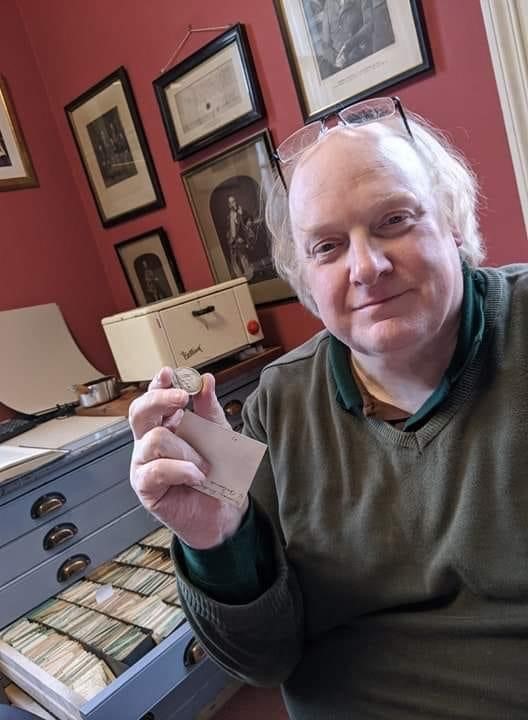 Anthony Maxwell
Stylist Heraldic Designer
1954 – 2021
Whilst Gordon Casely has kindly provided us with an obituary of Antony Maxwell, below are two items amongst many which Anthony so helpfully did for us and for which  I am so grateful to him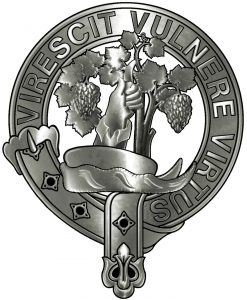 One is the silver edition of our Burnett badge
The other is the great armorial poster which John Burnett commissioned and which have been available for life members of the House of Burnett. John launched this at the Games in Las Vegas in 2015.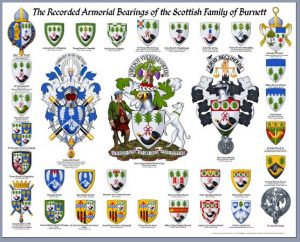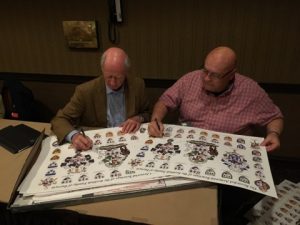 Anthony Maxwell did more than bring mediaeval heraldic design into the 21st century; he digitally brought heraldry alive, demonstrating how coats of arms could be applied to paper, wood, stone, glass, metals and textiles, and at considerably cheaper cost than conventional paint on vellum. "Brush and goo" was his brusque dismissal of the latter.
Anthony's clients ranged from North America to the Antipodes. He rarely met any in person, working alone at home in Edinburgh on his computer. His infectious enthusiasm greatly encouraged many to heraldry, and his innovative approach to design created a new wave in the Scots heraldic psyche. Thus his output proved a vigorous cornucopia of colour, cross and creature. The frightening ferocity of a rampant lion might well include an eye with a ready twinkle.
His IT skills led to a ground-breaking use of 3D printing, through which he pioneered a way of producing a bonnet badge in silver at considerably less cost than traditional silversmithing – not that his innovation in any way reduced standards of artwork. This led to a major commission – the production of silver crozier for an Episcopal bishop in England.
His was constantly stimulating company, if more than occasionally exasperating. He possessed his own ideas, and he'd interpret them in his own way. His depth of heraldic knowledge was profound, as was his knowledge of who was who in Scotland. Nor was he afraid of effrontery. When he felt that the artwork of the arms used by a Scots duke deserved better, he simply picked up the phone and called him. His brashness paid off for both parties, with the updated ducal arms now dancing with energy.
When he needed to deepen his reference library, he felt stymied that the 16th century Slains Roll was in private hands and effectively inaccessible. He used his contacts, worked his charms, gained 55 subscribers at £100 a time, and privately published 55 facsimiles in 2006.
Born the eldest of a family of six, Anthony was such a private person. We who thought we knew him actually hardly did, though we certainly were frequent recipients of his kindness in endless generosity of spirit and sheer artistry. His career included a commission as an army officer, being computer programmer, dealer in diamonds, and of course as a heraldic artist. He was also a graduate in fine art of Buckinghamshire New University, training as a woodcarver. Those pieces of his which survive have become treasured, if not pricey.
I'll miss him more than I can say. "Sir Gordon" he'd growl down the phone. "Sir Anthony", I'd respond. No, don't ask why on earth two grown men addressed each other in such schoolboy fashion. But we did.
We collaborated for some 20 years. Never once did we argue over quality or direction of work – though we certainly reached melting point a score of times on whether Latin or Scots should be employed for a motto.
Equally he did not hesitate to criticise if he felt that the heraldic establishment deserved it. He was no snob, for he dealt with everyone in the same manner.
But as a master of the sardonic, he was no diplomat either, and could readily put backs up. He fell out spectacularly with some of the office-bearers of the Heraldry Society of Scotland, thus making himself a distinctly Marmite character in the heraldic world. His growing body of fans however loved his work, the suites of arms he produced, and his clever heraldic email signatures in the style of Don Pottinger.
But even Anthony was taken aback when asked to produce the arms of a gentlemen on a large decal that now decorates a historic carriage at a railway heritage centre in Derbyshire.
Anthony applied his talents to producing oddities for himself. Wanting a pair of dress trews in Maxwell tartan, he was appalled at prices quoted to him. "I'm only ever going to wear them once a year" he complained. So he sourced a textile printer, and had a length in cotton printed off in his tartan. Then arranged with a local seamstress to run them up for him.
His passing robs the heraldic world of a maddeningly infuriating and delighting craftsman, someone who created original and stylistic Scots heraldry. Anthony leaves behind a huge body of work embellishing the lives of so many, capturing the essence of their lives in imaginative matriculations. His creations added panache to heraldic expression while never lacking dignity.
He enjoyed the company of long-time girlfriends, but never married. He died a day short of his 67th birthday after being diagnosed with Covid during treatment for throat cancer.
GORDON CASELY
Herald Strategy Ltd