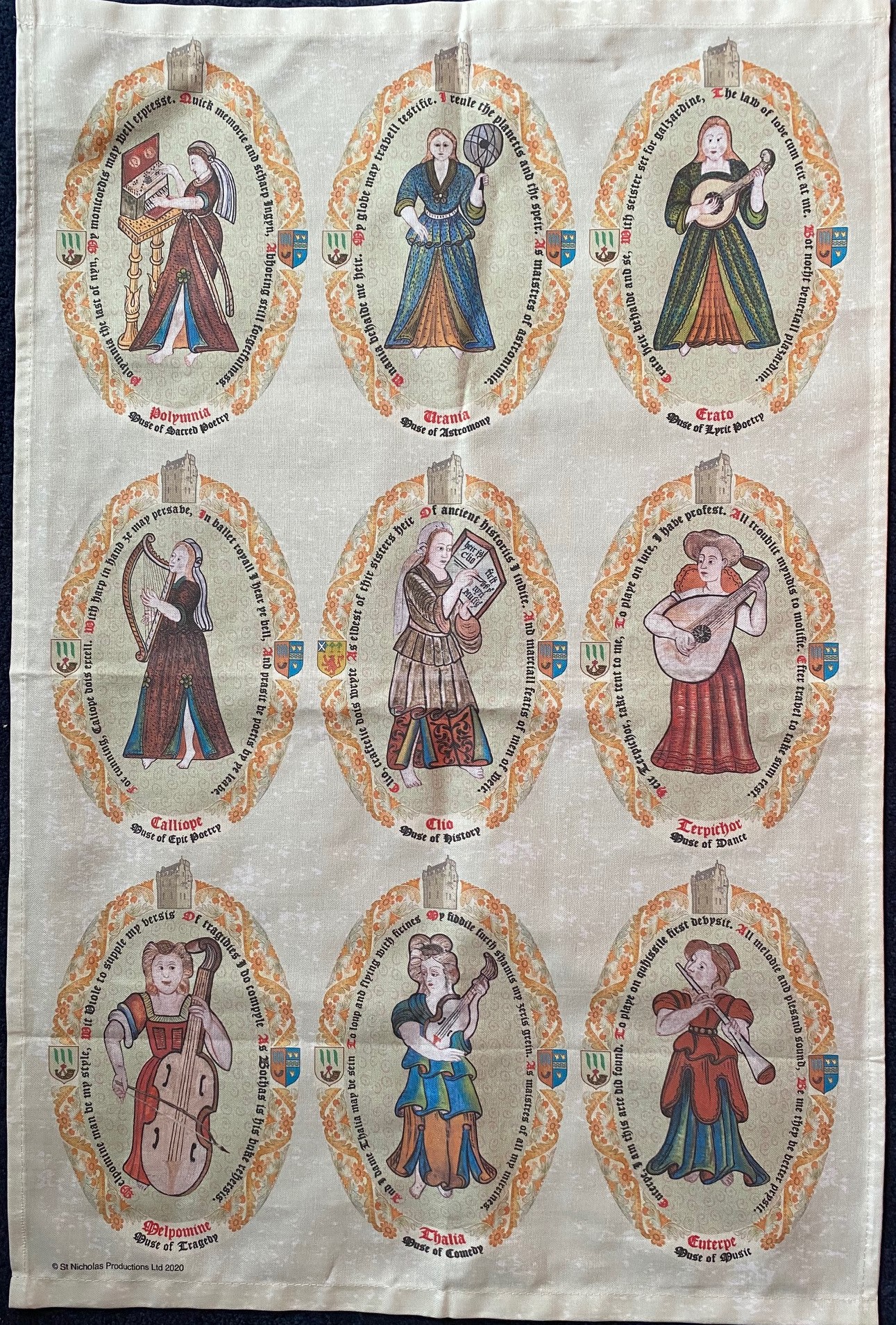 New Designs for the Shop
The Nine Muses
Following the publication of People and Painting, we thought that there the painted ceilings should be portrayed in a form other than a mere photograph. Consequently, we thought that we would produce a design of the Muses that could be applied to a number of products which might appeal to Burnetts and other Crathes visitors.
Paul Izard, a graphic designer, agreed to do this. We also agreed adhere to view of the images on the ceilings and resisted the temptation to modernise the appearance of the figures.
We have started humbly with the production of Tea Towels and Tote Bags which will shortly be available on the website. We are also considering making cushion covers. One benefit of these composite products, (as an alternative to items such as mugs), is that we need only produce one and not nine!
If any reader has an idea as to how else the designs can be used, or even use them for production, we would be pleased to hear from you.
The Tea Towels (shown above) will be available at £7.99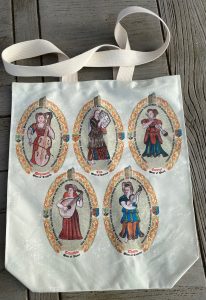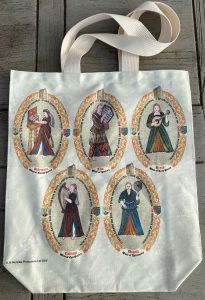 Tote Bags at £9.99
Deeside Lavender Soap
Deeside Lavender has long been associated with Banchory and produced on land which was within the Leys Estate.
Banchory's lavender fields were in production from 1946 to 1986 and many Deeside residents may not be aware of the flourishing industry that once made the area famous around the globe for more than royalty.
The business was the brainchild of a Shetland pharmacist and entrepreneur, Andrew 'Drewie' Inkster who, with his pharmacy background and keen interest in gardening, led him to experiment with distilling lavender oil from plants grown at home. The rest is history.
Ingasettar was the most northerly commercial lavender producer in the world and claimed that Dee Lavender, (a cultivar of extremely fragrant Munstead lavender which was introduced in 1916 by Gertrude Jekyll), was probably the best lavender in the world.
During the 1960's, it was estimated that up to 25,000 visitors came to the Deeside Lavender factory each year and sales covered the planet from Raffles Hotel in Singapore to the liner Queen Mary at her permanent anchorage at Long Beach California.
It may take some time to reach such dizzy height s, but Deeside lavender is working on re-establishing the business and its products are for all to try.

The owner of the reborn Deeside Lavender, Julie Rae, has permitted us to make available a Crathes collection of the soaps which will consist of a piece each of Lavender, Lavender and Oatmeal and Calendula.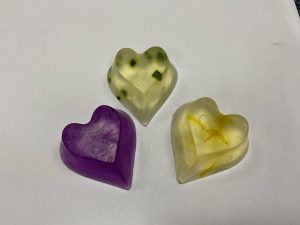 The Crathes Collection of Deeside Lavender soaps will be on the website at £12
For further information on Deeside Lavender products www.deesidelavender.com
Whitesky
Simon White has produced many dramatic photographs of the Aurora Borealis which we frequently enjoy in the Scotland.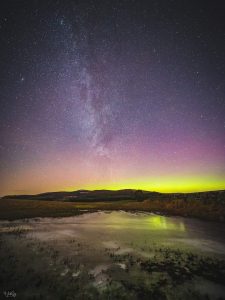 www.facebook.com/whiteskyphotos 
Above is an Astrophotography Aurora image he recently photographed at about 10pm looking across towards the Hill of Fare, famed for the Battle of Corrichie fought in 1562 between the Earl of Huntly, chief of the Gordons, and Mary Queen of Scots.
For readers who are not familiar with the event may, or may not, wish to know that the Earl of Huntly lost the battle and consequently died of apoplexy. That did not stop his captors preserving him and taking him by boat to Edinburgh where he was put on trial for treason. His corpse was found guilty and stripped of all his titles and lands.