A Tribute from Jacky Daugherty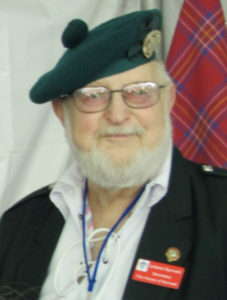 Leland Burnett has been the Secretary of The House of Burnett for over 10 years. He has collected the annual membership dues, maintained the database of members, sent out an email when the next Burnett Banner was available, and for those who do not have email, he sent out printed versions of the Banner.
He also sent out the membership cards and pins to new members. Leland has supplied the banners for those of us who do the Highland games. All this while doing the most Highland Games of anyone in the House of Burnett.
He is the U.S. Burnett genealogist, collecting the genealogical lines from the members and using the knowledge to help new Burnetts trace their line. Adding a story or two about his, or your relative to illustrate. Leland always has a good story or two, or three.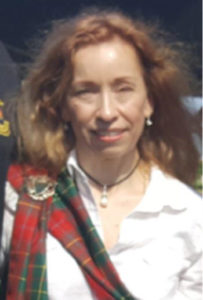 Although Leland is transferring his duties as Secretary of The House of Burnett to Board Member, Nicole Zimmerman, he will still retain his title of Director of Festivals. He will continue to promote and attend Highland Games throughout the country.
The House of Burnett sincerely thanks Leland for his diligence and devotion to the name Burnett. We all are in awe of what you have done and continue to do.
Jacky Daugherty
I would like to add my own appreciation to that of Jacky.
Leland has been largely responsible for the success of our Gatherings at Crathes. Not only has he helped with arrangements for Burnetts to attend and by the organisation of flights and transport, but he has been indispensable with the organisation once all have arrived. No problem has been insurmountable and gratitude has come from House of Burnett members and non-members alike. Moreover, any trepidation which I may have had over my recent visit to Las Vegas for the 2015 Reunion, was soon dispelled thanks to Leland.
I should add a quote from an earlier Secretary's Banner message.
"I plan on running for Secretary for at least one more year, unless someone would like to take over and give me more time to do research. That would be great."
That was 2009. That says a lot.
Leland. Thanks for all to date and, doubtless for the years to come. Nicole, welcome and thanks for taking this on.
Jamie