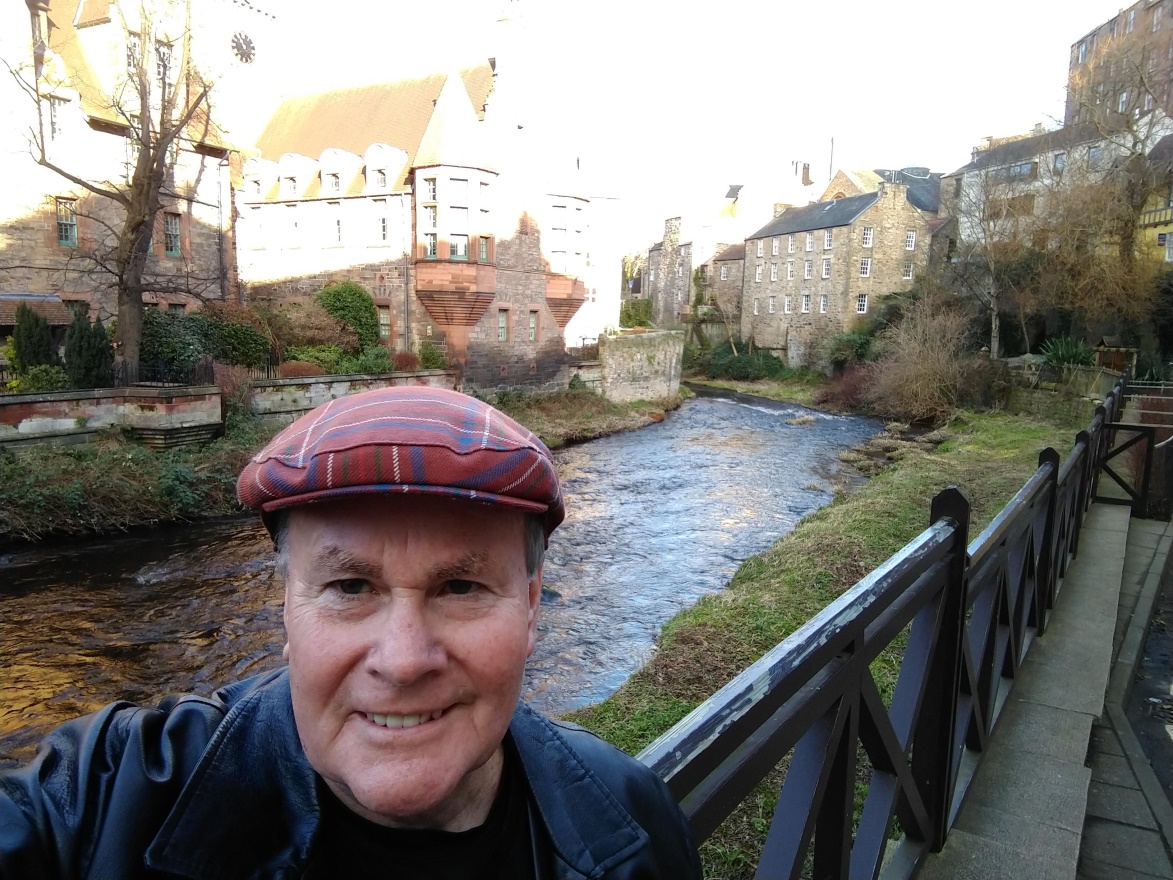 Visitors to Scotland
Most visitors to Scotland will visit Edinburgh. This was so with Paul and Kathy King from Florida and originally Australia. Paul and Kathy attended  the 2017 Gathering.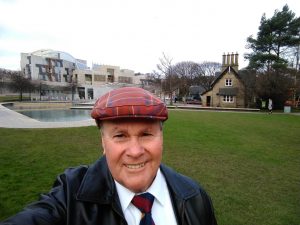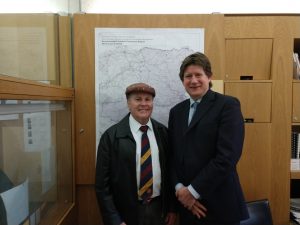 Paul and Alex at Scottish Parliament, 6 Feb 2020
The trip went very well.   Alexander obtained a ticket for Paul for the Scotland v England Six Nations Rugby game at Murrayfield. Even with Storm Ciara doing her best to more than dampen proceedings, the experience was memorable. Alexander also arranged a visit to the Scottish Parliament. First Minister's question time was entertaining. Paul also got into a bit of strife with security when he was given wrong directions to question time. He nearly confronted Nicola Sturgeon personally.
Paul did take the opportunity in taking over the First Ministers seat for a brief second. Exit the Queen. Long live King !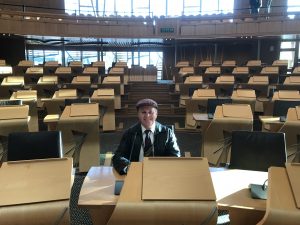 If any House of Burnett members wish a visit to the Scottish Parliament, please let us know. Alexander cannot guarantee to be there, but arrangements can be made to facilitate the experience. A visit to the Parliament is in the plan for the Highlands and Edinburgh for the 2020 Gathering
*****************
New Post for Alexander
Alexander is pleased to announce that he has been offered the role of Shadow Minister of Finance and which he accepted. He was also appointed as a Vice Chairman of the Scottish and Unionist Party with a responsibility for campaigning. His full list of Parliamentary roles is as follows
Member of the Scottish Parliament for Aberdeenshire West
Shadow Minister for Finance
Member of the Finance and Constitution Committee
Co-Convenor and Co-Founder of Autism Cross-Party Group
Co-Convenor of Renewable Energy and Efficiency Cross-Party Group
Deputy Convenor of Construction Cross-Party Group
Deputy Convenor of USA Cross-Party Group
He is also a member of 2 other Cross-Party Groups: Rural Policy and Tourism
Party role:
Vice-Chairman of the Scottish Conservative and Unionist Party, with a responsibility for Campaigning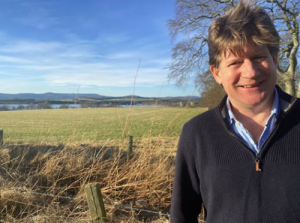 If readers want an update on his parliamentary activity, look to https://www.alexanderburnett.com/
*****************
Sir Thomas Burnett's Shotgun
The Burnett archive is mostly in the safekeeping of the University of Aberdeen Special Collections, although much of the more 'recent' papers remain in our archive at Crathes. We are always pleased to add information to any of our records and including the whereabouts of items that are no longer in the family possession. Such stories and information may not appear 'important', but they are to our records and consequently may be of interest to others
One such item was brought my attention by Philip Stockdale of Masham in North Yorkshire following the recent Banner article about my great grandfather, Sir Thomas Burnett, whom had been unreasonably described as a "Dry old Stick". Philip recently inherited a shot gun from an uncle and which had been owned by his great grandfather, William A Stockdale.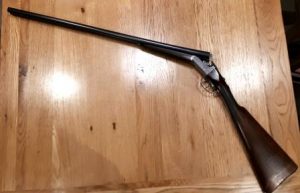 William lived around Yarm, worked at the local ICI plant and according to a local newspaper article was a "great countryman".  We have yet to find any detail in our records of the sale of the gun, but the University of Glasgow have kindly sent me the records of the sale.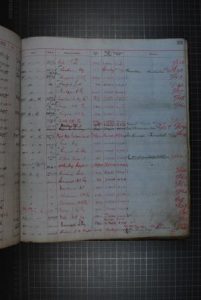 Thanks to the University of Glasgow Archives & Special Collections, Army & Navy Co-operative Society Ltd collection, GB248 FRAS 309/
The gun is an Army & Navy 16 gauge side by side. The University of Glasgow keeps all the Army and Navy stores records and were able to tell Philip the gun was originally purchased by Sir Thomas Burnett in 1896 for £25 7s 6d. Philip's great aunt's she believed her father purchased it in the "late 20's early 30's" which would line up with passing of Sir Thomas in 1926. However, the original date of purchase was December 23rd 1895 and makes me think that, being a 16 gauge shotgun, it might have been a Christmas present for his son, James, who was born in 1880, and who would have eventually used his father's guns. These were a pair of 12 gauge Purdeys which were made in 1888 and which I used until about 1990. This is supported by the reduced stock length to which a piece has been added to make it back up to a standard length. Philip maintains that it is not the greatest of repairs as he thinks it was carried out by his great grandfather rather than a gunsmith. People ask or "advise" that he should get a new stock made for but he disagrees as he thinks that it adds to the character and history of it.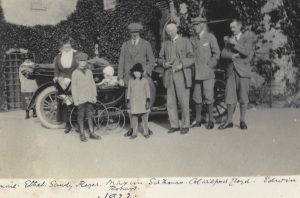 The group photograph shows Sir Thomas and his family in 1922. Tenuously relevant is that James, my grandfather, was for most of his life called Maxim because the rapidity of his speech was likened to that of the Maxim machine gun.
Philip still uses the gun on occasion and it still shoots well. His grandfather had the ageing barrels sleeved down to 20 gauge in 1986 which means that modern loads can be used making it a capable gun even today and a credit to all its former owners. He had no any picture of himself taking down a high pheasant with the gun, but he did send me a picture of the real star the peg, his German pointer "Purdey" with the gun out in field.