It is arguably appropriate that I include in the Banner the contents of a message circulated by Judge Gil Burnett
Attached is a photo of a water spout/tornado that was in front of the family cottage at Carolina Beach, N. C. in mid-August while some of his family were there. Kendra, daughter of Barbara Burnett took this photo NBC TV wanted permission to show some of her photos and may have shown them on the air. Photos were all over the local news. The wind did NO damage at the cottage. The spout came onto land just south of the business section and at that point became a tornado, then a water spout over the lake and then a tornado over land again. Then it fizzled out having done little damage at the beach. She actually has several minutes of video showing the water spout traveling past the cottage and going on shore.  It's VERY INTERESTING!!!!  The video is on WECT's webpage.  Just google "Kendra Hawley WECT" and look for the 3minute 37 second video titled "Waterspout spotted in Carolina Beach2".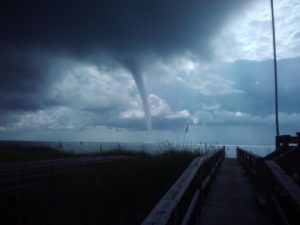 I don't know quite what the relationship is with the Gargoyle other than they are both spouts with a Burnett association. My wife had the attached made as a 70th birthday present. It is sculpted by Jane Smith who is assisting in the management of the Milton Gallery at Crathes. She has suggested that, now that we have the mould, I might make copies available. I think that she suggested it with tongue in cheek as I did not foresee a stampede. However, others might like her to do something similar with their loved ones. Mine will complete a wall fountain at our house in Spain.