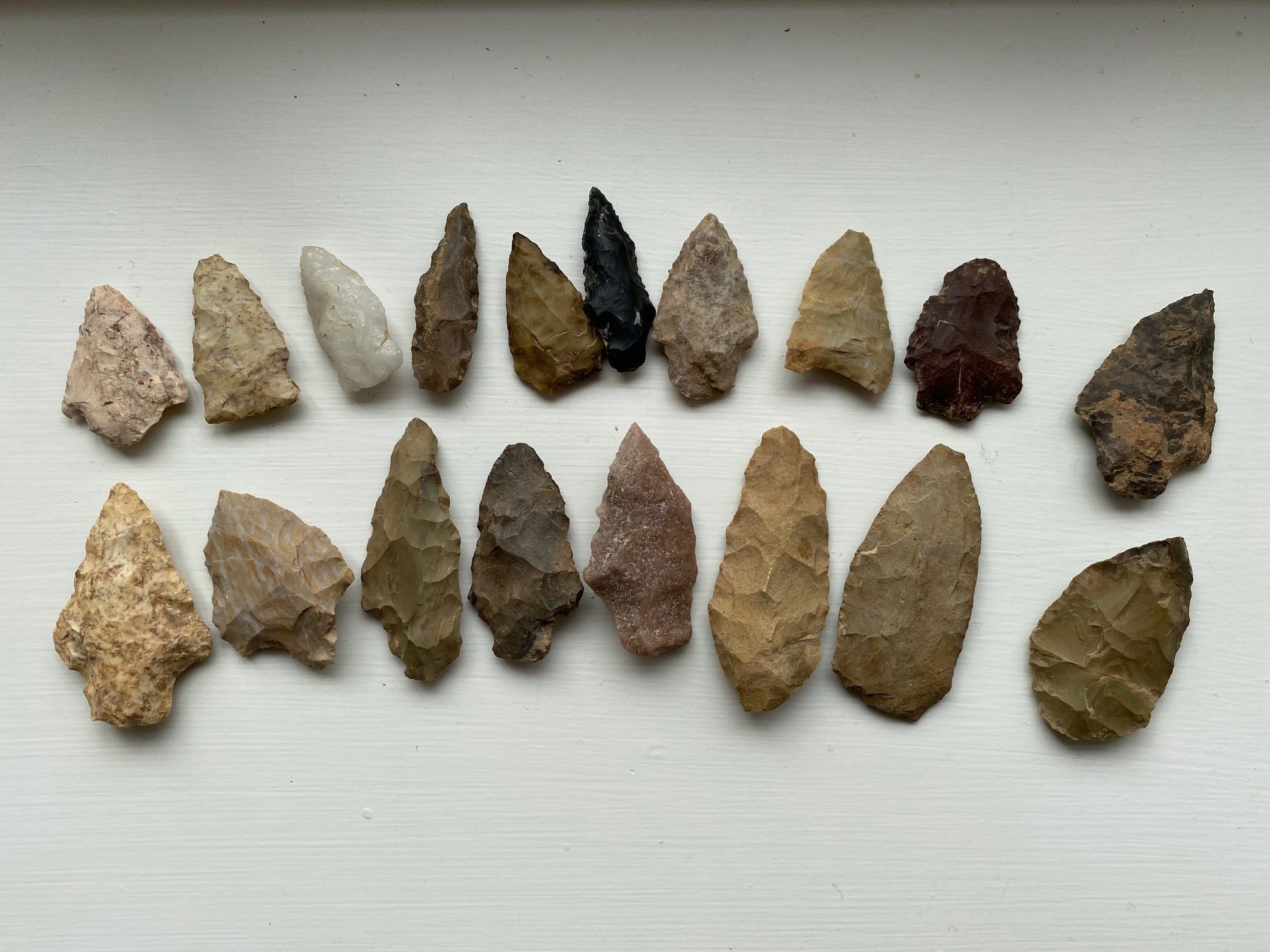 Crathes and North American Artefacts
Our metal detecting continues at Crathes with an objective to create a display of finds in the Family Room in the Castle. It may not contain treasures that would appeal to museums, but it helps to understand something of life and past activity on lands surrounding the Castle.
Any display of home-found items will be humble, in both age and scale, when compared with a very generous gift from Terry Burnett and which we will show with our own discoveries. Burnett finds are welcome wherever the provenance.
The items from Terry's collection include spear points, cutting and scraping tools as well as knife lades, all of which he found in Alabama and mostly along Black Creek and the Coosa River.  The photograph shows a selection generally from the middle and late Archaic Periods (c. 4,000 – 1,500 BC) and the early Woodland Period (c.500BC) .
A full description of Terry's collection will accompany the display and probably find its way into the Banner.
Whilst our Crathes search is for metallic artefacts, I did recently by chance find a 'lithic' item which appeared from a dig for something more mundane.  It is a Neolithic working tool which is young in comparison with other local archaeological discoveries of which many are Mesolithic. However, I was pleased to find it.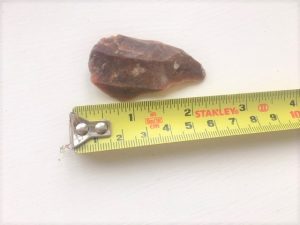 Our collection is that of Chris Engel and me, but I have to confess that most of the more important items have been found by Chris. This may be due to experience, good fortune, intuition or thoroughness, but I am grateful to him as, without his input, much may have been missed.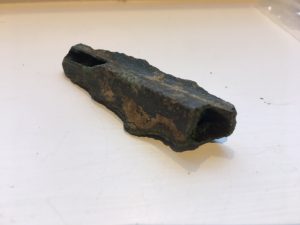 Near to Crathes recently, a find included some bronze fragments and a corroded bronze arrowhead containing some cupro-preserved wood from the original arrow.
There have been many Mesolithic finds in the same group of fields  and also much of what we find elsewhere; such as spinning whorls, coins, buttons, musket balls, love tokens fashioned from coins and buckles.
 Spindle whorls are circular perforated weights from wooden drop spindles and are used for the spinning of yarn which was made into thread and woven into textiles.  Their weight helped give the spindle rotary momentum. The whorls were usually 40-50mm in diameter and made from a variety of materials including bone, wood and lead.  Some are decorated with a geometrical pattern.
The number that we have found suggests that spinning was probably common practice when minding the sheep and cattle in the fields.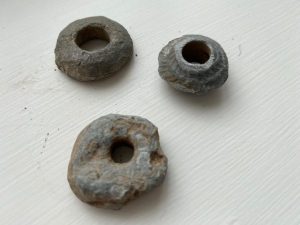 Amongst a number of coins in the same field was a Chester Hallmarked 1915 silver brooch "MINNIE".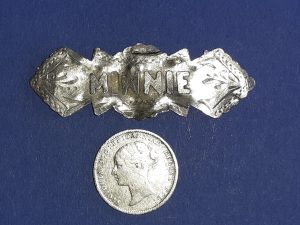 Close by was a musket ball. What has been going on in the fields must  be left to the imagination.
I broke off detecting in the field to go for a walk with our daughter Eliza and her children. During the walk, her four year old son stood on a tree stump which contained a wasp's nest. Consequently, he and his sister, Serena, were badly stung and more seriously, Eliza who has allergy to wasp stings. Within an hour she had to be taken by ambulance to Aberdeen Royal Infirmary where fortunately, all quickly recovered.
Meanwhie, back in the field, Chris unearthed two gilded brass fobs containg glass intaglio seals.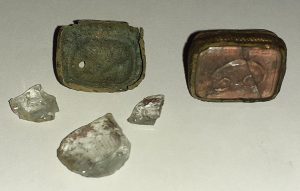 One seal (R) was that of a C suggesting Crathes. The other (L), broken and less than 15mm across, depicted a bee hive together with several bees.  This was somewhat  coincidental as I thought initially that the wasps, which were much smaller than the usual type of wasp, were bees.
In the far distant past, communities and places were connected by a network of routes and pathways that were in use for hundreds or even thousands of years. These meandered through the landscape avoiding swamps, steep inclines and natural obstacles. For whatever reason, travellers left a 'jetsom' of dropped and discarded items along these routes. And these are often the targets of our detecting.
During the period of agricultural improvement, a lot of virgin land was brought into cultivation, field boundaries were built with stones and many old paths and roads were aligned. About the same time, landowners constructed turnpike roads. Like the Romans, the planners and surveyors favoured straight lines. The result was that meandering sections of old tracks became integrated into the new field boundaries.
Recent finds include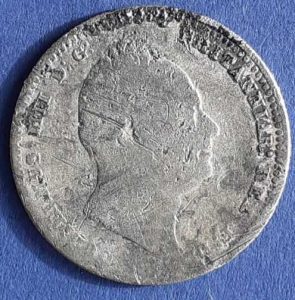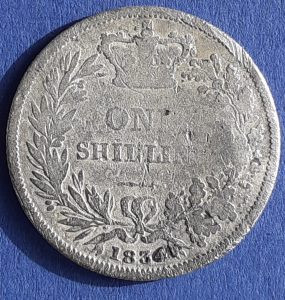 George IV 1834 silver Shilling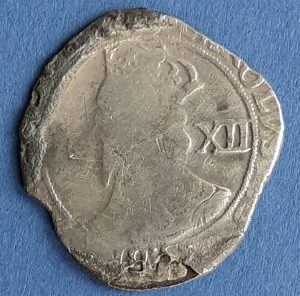 Charles 1st 1625-1649 silver Shilling
           It was not uncommon for coins to be cut into halves or quarters in the absence of smaller change. However, in the case of this coin, the breakage does not follow the symmetry of the short cross and we can assume that the damage occurred in-situ. (We're still looking for the other part)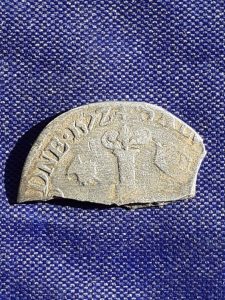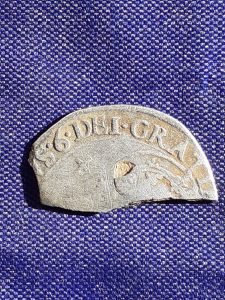 James VI  1572  ¼ silver Merk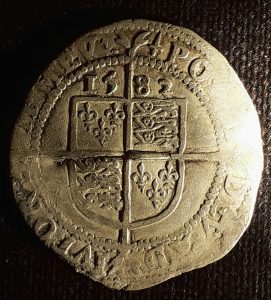 Elizabethan 1582 silver Sixpence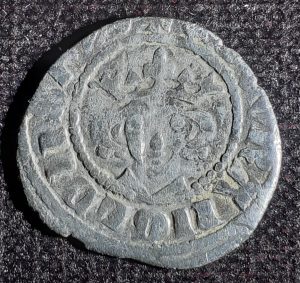 Edward 1st c1290 – silver Penny from Newcastle mint
Early copper coins include Turners and Bawbees. Turners (from French Tournois as reported in an earlier update), replaced all copper coins previously struck in Scotland, the circulation of which was banned in 1642.
A Bawbee was a Scottish sixpence. The word Bawbee means a debased copper coin, valued at six pence Scots (equal at the time to an English half-penny. It was issued from the reign of James V of Scotland to the reign of William II of Scotland. They were hammered until 1677, when they were produced upon screw presses.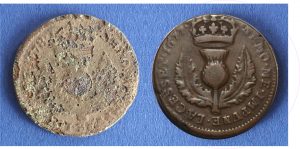 Above (left) is a Bawbee copper coin of 1673 with a thistle and crown on one side. The head of Charles II (1660-1685) is on the other side. The coin shows the corrosive effect of the soil, but the example alongside shows what it would have been if it had not been so affected.
The above were amongst a number of Elizabethan, Georgian and Victorian coins and other items which provide some understanding of local life over the centuries with as many questions to answer. We don't know the explanation for a Norwegian King Christian VII 1 Skilling Danske 1771 or an Apothecary's 2 scruple weight of 1844.
We have two projects which we are researching. At Kilduthie (tenuously relevant because our feudal barony is of Kilduthie), there was at one time a chapel established by or in the name of St Duthac. The precise location is unknown but we recently found a small cross which raised our hope a little.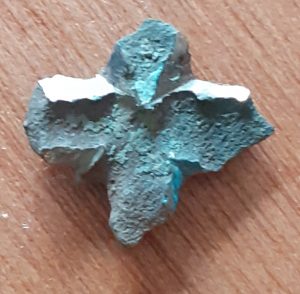 It has a copper core with gilded faces, defining and angles, faceted design. The fragment is 10mm across and looks remarkably like a corroded crucifix. This is not conclusive evidence of St Duthac's chapel but is strong support of a religious presence at Kilduthie. This provides only a faint hope but any such find encourages further restarch.
The other relates to the Battle of Corrichie which was fought largely on what was Leys Estate land in 1562. The outcome of the battle was that the forces of Mary Queen of Scots under the Earl of Moray defeated those of the Earl of Huntly. It is alleged (incorrectly) that Mary watched the battle from the top of the Hill of Fare. The outcome of the battle was that Moray defeated Huntly who immediately died of apoplexy and fell off his horse. His body was embalmed and taken to Edinburgh for trial over six months later. He was found guilty of treason and with the forfeiture of much of the lands of the Gordons.
 It is possible that skirmishing during the early conflict took place on the low lying land which has remained within the Leys Estate. Nearby, I recently found a large musket ball. It weighed 37.8 grams and has impact marks. From a bit of research, we learned that this weight exactly describes a 12-bore "arquebus" musket ball. 12-bore refers to 1/12th a pound of lead and hence the origin of gauges, (6-bore, 20-bore etc.), for shotguns. An arquebus was a shoulder or tripod fired musket of which Moray had around 150 "aquebusiers" in contrast to Huntly's inferior firepower and many less combatants.
When the harvest is gathered, these fields will be for our next endeavour which will be to ascertain whether or not skirmishing did take place in these fields on Leys Estate. It would be nice to link history to tangible evidence.
Other finds relate neither to craft, conflict nor commerce nor conflict. An example is this delightful lead frog character wearing a hat and frock-coat. It must have been a child's toy.