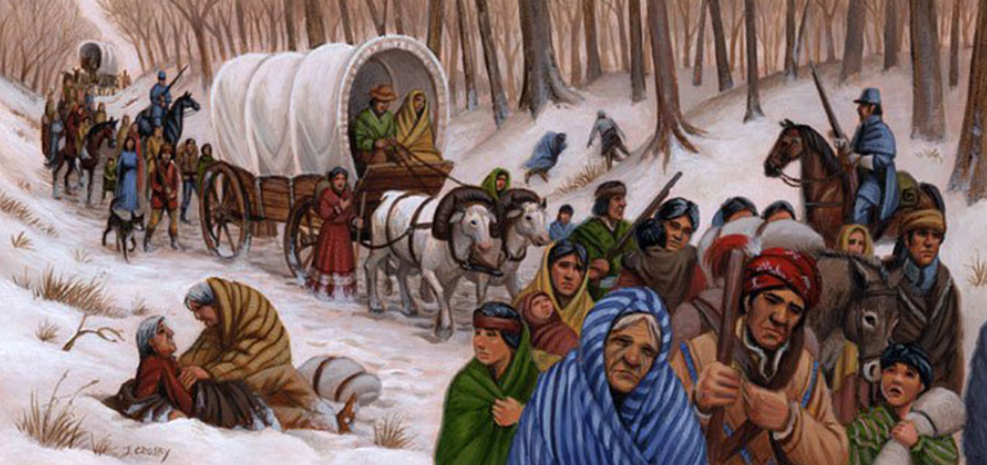 This is the story of one Burnett line in our project comprised thus far of the descendants of two pioneer families, now proven to be of the same paternal Burnett line.
A few descendants of a man named John Greenberry Burnett (JGB), b. 1810 in Sullivan County Tennessee, took the YDNA test and their results matched, proving they all shared JGB as their common Burnett ancestor.  This test is not the standard DNA test offered by Ancestry.com or 23andMe.  This YDNA test analyzes only the paternal line of the tester and can identify men who share a common paternal ancestor over 1,000 years ago.  Until recently, the descendants of John Greenberry Burnett had only one match who did not descend from JGB, a German, with a very German name, suggesting that JGB may have also been of German descent.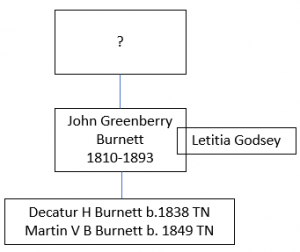 In his early life, JGB made friends with the local Native Americans, but in the early 1830's, conflicts with the American Indians were still widespread in the United States, and President Jackson was determined to make all the lands east of the Mississippi available to the white settlers.  JGB was a soldier in 1838 and found himself assigned to assist in the removal of the Cherokee Indians resulting in a journey now known as "The Trail of Tears".  The purpose of the journey was to drive the Cherokee and other native tribes out of the southeastern US to locations in the American West.  Thousands died during and shortly after the trip.   In his later life, JGB wrote a letter to his children documenting his memories of the trip, excerpts of which are included at the end of this article.  The letter is a rare artifact wherein a white man chronicled the trip with a viewpoint sympathetic to what the natives endured.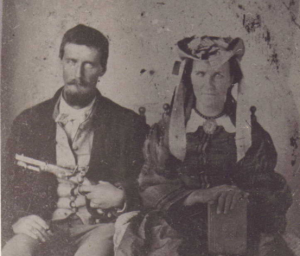 This photo of JGB and his second wife, Rebecca Moss-Burnett is classic Early-Americana.  JGB shows off his pistol and Rebecca clutches a Bible.  These items were considered the essential tools of pioneering life.  The original is housed in the Museum of the Cherokee in Cherokee, North Carolina
 The birthday letter also provides JGB's descendants with key clues, including the date and location of JGB's birth.  Armed with this information, it should have been relatively easy to identify the parents of JGB but that was not the case.  The records of Sullivan County Tennessee and surrounding counties have been thoroughly scoured and no trace of his parents have been found.  For over a year, these testers sat patiently awaiting new matches who could provide new clues about the origin of their ancestor, John Greenberry Burnett.
In 2019, a new tester came along, a descendant of William D Burnett, b. 1833 in Morgan County, Indiana, whose test results matched.  His descendants believed that William D Burnett may have been the son of John Burnett and Lucretia (Evans) Burnett, but no solid proof had been found.  The test results brought renewed interest and new records were identified providing even stronger evidence linking William D to John & Lucretia including an affidavit listing the heirs of John and Lucretia and the land grant shown here whereon William D and his mother Lucretia signed as having sworn an oath, linking William to both of his parents in a single record.  Still, these records did not provide absolute proof.  In the process of researching this line, we identified a descendant of Lorenzo Dow Burnett, suspected brother of William D Burnett and also a son of John and Lucretia.  This descendant took the YDNA test and his results matched the group, removing any remaining doubt that William D Burnett and  Lorenzo Dow Burnett were the sons of John Burnett and Lucretia through indisputable YDNA evidence.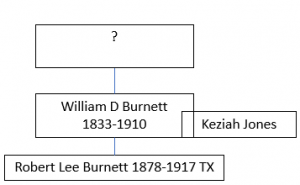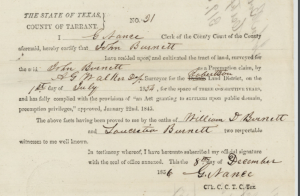 Census records show that John and Lucretia were born in the years 1794 and 1805 respectively, both in Indiana.  Indiana did not become a US state until 1818.  It is likely that John and Lucretia's parents were early settlers on the frontier land that later became Indiana.  They would have been living among the Native Americans in an area that had little organized western law.  Settlers generally lived near forts to which they fled in times of danger.   John and Lucretia clearly were born into families accustomed to living on the wild frontier and were probably also friendly with the Native Americans.
We do not know where in the wilds of the Northwest Territory John and Lucretia were born.  They were married in 1824 in Crawford County Indiana and moved their family to Missouri in about 1838 and, finally, to Texas in about 1842.  Texas in 1842 was still a very wild and dangerous place but John and Lucretia were probably well-prepared having lived their lives as pioneers.
Two of the testers have now upgraded their tests to an advanced test called the Big Y-700 that identifies the origins of the paternal line.  The test shows that ancestors of this line were located in Germany, not far from the border with France, about 4,000 years ago.  This is consistent with the match to the German tester.  The path shown however, is not far from the path of other Burnett lines whose origins show them moving through France into England and Scotland, but thus far no traces of this line have yet been shown to have gone into England or Scotland prior to sailing to the New World.
The search for the common ancestor shared by these two pioneers, John Burnett and John Greenberry Burnett continues, but we now have a lot more information.  We were able to prove that John and Lucretia were the parents of William D Burnett and we now know that JGB had cousins in the wilds of the Northwest Territory in the late 1700's.  Through further research and testing, these trees will grow and we will learn more about this rugged Burnett family.
The Burnett YDNA Project is a great place to research your Burnett ancestors.  We have over a dozen distinct Burnett lines from all over the world and over 200 testers.  The YDNA test is excellent for genealogy because it is the most helpful for identifying ancestors born over 200 years ago.  Although only men can take the test, women can recruit a brother, father, cousin, etc. to take the test for them. To join our project or to learn more about the Burnett YDNA Project, please visit our website: https://www.familytreedna.com/groups/burnett/about or contact terrybarwin@gmail.com
Below is an excerpt from the Trail of Tears letter written by John Greenberry Burnett is below.  Musician Johnny Cash was recorded reading the letter and you can listen to it at this link: audio link or you can read the full version at this link: https://nwtrail.weebly.com/private-john-g-burnetts-birthday-letter.html
John Greenberry Burnett b. 1810 Sullivan County Tennessee, d. 1893 Sullivan County, Tennessee
Excerpts from the "Birthday Letter"
This is my birthday, December 11, 1890, I am eighty years old today. I was born at Kings Iron Works in Sulllivan County, Tennessee, December the 11th, 1810. I grew into manhood fishing in Beaver Creek and roaming through the forest hunting the deer and the wild boar and the timber wolf. Often spending weeks at a time in the solitary wilderness with no companions but my rifle, hunting knife, and a small hatchet that I carried in my belt in all of my wilderness wanderings. On these long hunting trips I met and became acquainted with many of the Cherokee Indians, hunting with them by day and sleeping around their camp fires by night. I learned to speak their language, and they taught me the arts of trailing and building traps and snares…
The removal of Cherokee Indians from their lifelong homes in the year of 1838 found me a young man in the prime of life and a Private soldier in the American Army. Being acquainted with many of the Indians and able to fluently speak their language, I was sent as interpreter into the Smoky Mountain Country in May, 1838, and witnessed the execution of the most brutal order in the History of American Warfare. I saw the helpless Cherokees arrested and dragged from their homes and driven at the bayonet point into the stockades. And in the chill of a drizzling rain on an October morning I saw them loaded like cattle or sheep into six hundred and forty-five wagons and started toward the west.
One can never forget the sadness and solemnity of that morning. Chief John Ross led in prayer and when the bugle sounded and the wagons started rolling many of the children rose to their feet and waved their little hands good-by to their mountain homes, knowing they were leaving them forever. Many of these helpless people did not have blankets and many of them had been driven from home barefooted.
On the morning of November the 17th we encountered a terrific sleet and snow storm with freezing temperatures and from that day until we reached the end of the fateful journey on March the 26th, 1839, the sufferings of the Cherokees were awful. The trail of the exiles was a trail of death. They had to sleep in the wagons and on the ground without fire. And I have known as many as twenty-two of them to die in one night of pneumonia due to ill treatment, cold, and exposure. Among this number was the beautiful Christian wife of Chief John Ross. This noble hearted woman died a martyr to childhood, giving her only blanket for the protection of a sick child. She rode thinly clad through a blinding sleet and snowstorm, developed pneumonia and died in the still hours of a bleak winter night, with her head resting on Lieutenant Greggs saddle blanket.
I made the long journey to the west with the Cherokees and did all that a Private soldier could do to alleviate their sufferings. When on guard duty at night I have many times walked my beat in my blouse in order that some sick child might have the warmth of my overcoat…
… The only trouble that I had with anybody on the entire journey to the west was a brutal teamster by the name of Ben McDonal, who was using his whip on an old feeble Cherokee to hasten him into the wagon. The sight of that old and nearly blind creature quivering under the lashes of a bull whip was too much for me. I attempted to stop McDonal and it ended in a personal encounter. He lashed me across the face, the wire tip on his whip cutting a bad gash in my cheek. The little hatchet that I had carried in my hunting days was in my belt and McDonal was carried unconscious from the scene.
I was placed under guard but Ensign Henry Bullock and Private Elkanah Millard had both witnessed the encounter. They gave Captain McClellan the facts and I was never brought to trial. Years later I met 2nd Lieutenant Riley and Ensign Bullock at Bristol at John Roberson's show, and Bullock jokingly reminded me that there was a case still pending against me before a court martial and wanted to know how much longer I was going to have the trial put off?  McDonal finally recovered, and in the year 1851, was running a boat out of Memphis, Tennessee.
The long painful journey to the west ended March 26th, 1839, with four-thousand silent graves reaching from the foothills of the Smoky Mountains to … the West…