We were very sad to hear that Corinne Dunklee passed away on November 28th . It must be remembered that her late daughter, Mary, was arguably the founder of the House of Burnett.  Mary formed the Burnett society in the 1970 which eventually developed, with Clan Burnett inc into the House of Burnett. Corinne and her daughter Peggy came to Scotland to the 2009 Gathering  and was one of the stars of the week. Despite her advanced years and her health, she stoically addressed all the events during the visit, refusing to make good use of the wheelchair that we had provided for her. Peggy confirms how much she loved her visit here and how much she enjoyed the Scottish music, dancing and other activities that were organized during those few days. We very much enjoyed her company. She will be greatly missed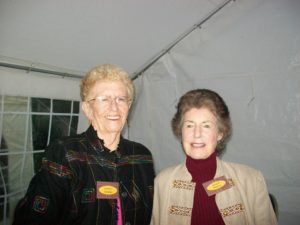 Barbara "Cori" Dunklee was born in Athens, Tennessee on October 2, 1929. She passed away in Sanger on November 28, 2010 at the age of 81.
She was the retired co-owner of Yosemite Coins & Antiques. She was an avid bowler and was a life member and past president (12 years) of the F.W.B.A. (Fresno Women's Bowling Association).
Barbara is preceded in death by her husband Howard, and her daughter, Mary. She is survived by her son Daniel Dunklee and his wife Peggy of Clovis: daughter Beverly Pursell-Mangus and her husband Chet of Sanger; four grandchildren-Chaunacey Dunklee, Christopher Dunklee, Shari Humphry, and Katie Pursell. Also nine great grandchildren-Jonathon Russell, Christopher Winzler, Maia Dunklee, Meghan Winzler, Hunter Russell, Terran Dunklee, Jocelyn Russell, Samantha Humphry, Sean McInerney
James C. A. Burnett of Leys