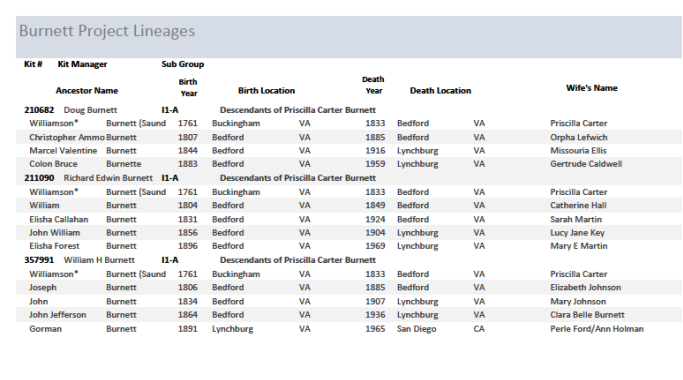 By Terry Barwin
Burnett Project Members:
Before I get into the project update, I want to give a very special thank you to Jamie Burnett, Chief of the Name and Arms of Burnett. Jamie and the House of Burnett have been invaluable to our cause.  He and his team have published our articles in the Burnett Banner, enabling us to find many new testers.  He also led us to one of the Scottish testers that we hope will link at least one of our project sub-groups back to the House of Burnett and Crathes Castle.  We have several ranking members of the House of Burnett in our project including Vicki Granell and Terry Burnett.  This partnership is proving very beneficial to our project and is one of our top priorities.
In my opinion, it is likely that most of our lines lead back to House of Burnett in one way or another. Parts of this family have been traced back to the 14th century.  Over the centuries, many collateral branches were formed.  Some of these branches may have experienced name change to Burnett, adoptions, or other NPE's creating new YDNA lines that sired more than one of our sub-groups.  For this reason, we would like to identify multiple testers from various branches of this large family.  So, our search will continue.  I see the House of Burnett as the ancient home for most of our project members.  Hopefully we will continue to identify testers who can help us to prove or disprove this.  Regardless, we are all welcome in the House of Burnett.
If you haven't already joined the House of Burnett, I strongly encourage joining. It's only $10 for the first year and $20 / year thereafter.  I and many members of our project plan to attend their Gathering at Crathes Castle in 2021.  I would love to have the opportunity to meet all of you face to face at the Gathering.  It's sure to be a wonderful trip, one which is offered only every four years.
To join the House of Burnett or for more information on the 2021 Gathering, go to their website: https://www.burnett.uk.com/.
Regarding progress in our project, Summer 2019 was good, but Fall is going even better.
Here are just a few of the highlights:
New Testers in our Project
The results from all those new kits ordered in the Summer are in. These testers bring new paper trails and insights to these groups.  Most of you will have noticed new matches in the past few months.  Welcome to all our new members.  We're glad to have you!  We seem to have significant momentum now and another four new kits are currently processing.  If you haven't reached out to your new matches, please give them a warm welcome.  Along with this update, I have provided the most recent Burnett Lineage Book which provides the lineage of our testers.  This report has been updated to include our new testers as well as any updates to lineages previously included.
Using YDNA to Prove our Way Back to Scotland
Many of you are aware that we were recent able to prove through YDNA testing that one of our sub-groups descend from the House "Burnett of Barns". We published an article about this in the recent issue of the Burnett Banner (House of Burnett).   This was a very exciting step for our project since one of our goals is to identify the origins of all our sub-groups.  To this end, we have been looking for testers who live in Scotland and / or can prove their lineage back to Burnett of Leys.  This testing – we hope – will identify which of our line(s) descend from this well-known Scottish family.  Since the Leys line was so large, we suspect there were probably multiple paternal lines within this family. We'd really love to find as many descendants as possible.  We have now identified two "Scottish" testers whose tests are underway.  One is an American whose great-grandfather was a proven Scottish immigrant.  We haven't been able to trace his family in Scotland prior to 1860, but if he matches to one of our lines, we will figure that out.  The second tester is a resident of England and he has traced his line back to Burnett of Leys.  His family moved from Scotland to England in the 1600's.
Awaiting Exciting Big Y Results
As of this writing, 16 of our members have ordered the Big Y kit since the sale started. Susan and I are learning so much about the benefits of this test (Susan Kromer-Hunt more than I).  We now understand the test can date the common ancestor that two testers share.  This information helps our research enormously and we are very eager for all the results to start rolling in! Unfortunately, we all need to be patient now.  This test takes a long time to complete, typically two to five months.  A special thanks to everyone who ordered an upgrade or who chipped in to help upgrade someone else's kit.  The prices in this sale are fantastic – $99 for a new Y-37 kit and the upgrades are significantly discounted, with upgrades to Big Y under $300 for the first time ever.
Tracing Your Line to the Bronze Age
Susan Kromer-Hunt has identified a new tool called the "SNP Tracker" http://scaledinnovation.com/gg/snpTracker.html.  This tool uses the SNP's that we get from the Big Y to track your paternal line all the way back to the Bronze Age.  If you have already taken the Big Y, contact Susan for more information on how to use this cool new tool.  Susan is also our resident expert on reading your Big Y results.  If you have questions on how to understand your results, let her know.
Funding our Research
We have received a generous donation by one of our new members into our project fund. This money will be used to fund kits for those who cannot afford them and to fund kits that significantly further our research, but whose testers may have no interest in the results.  We have already used some of the funds for both these purposes.  If you would like to donate to the project fund, let me know and I will send you instructions on how to do it.
Special New Member
We have a new team member, Mary Nell Burnett. She is a very thorough and skilled genealogist.  She has volunteered help us with some of our difficult research problems.  The first task she has undertaken is to work with Susan to research John Burnett and Lucretia, progenitors of R1b-C. She has published her early findings to the R1b-C group and they are remarkable.  Thank you, Mary Nell and Susan, and keep up the great work!
We are thrilled with the progress over this past year and are hopeful it will continue at this pace. Thanks to everyone for your support.
Terry
terrybarwin@gmail.com