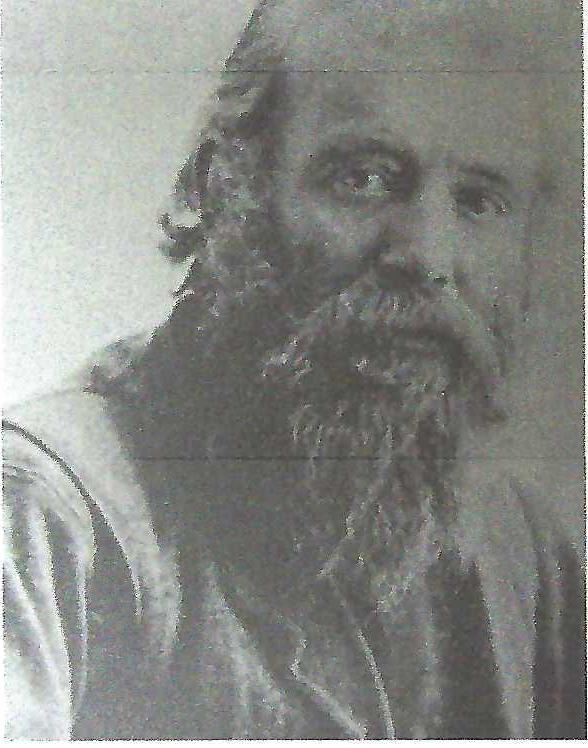 Burnetts of the Old West
Compiled by Jackelyn Daugherty
Jim Burnett was shot and killed at the O.K. Corral in Tombstone, Arizona. Burnett was the Justice of the Peace in Pearce, Arizona at the time of his death.
James C. Burnet, a New Yorker, born about 1832 was as-sociated with the Charleston-San Pedro River-Fort Huachu-ca area for twenty-five years. Burnett had spunk, raw arro-gance, and a daring-do that stood him in good stead in this raw frontier region. Burnett was in the area from the beginning. One of the earliest mentions of him is standing by a shallow grave near Charleston in July of 1879, holding a coroner's inquest over the body of Dennis Consadine, a liquor-ridden body with knife wounds and bullet holes in the heart. Such scenes would figure prominently in Burnett's career.
It's hard to pin an occupation on Burnett. He was a rancher, farmer, justice of the peace, sometime-coroner, butcher, livery operator, in fact doing anything he could to assure a reasonable income in this mining and milling community. He was most closely associated with Charleston and with his role as justice of the peace.
As the years passed, Burnett spent more and more time with ranching and cattle sales. He was closely attached to things at Fort Huachuca. He had a butcher operation there, and in the summer of 1895 erected an impressive cold storage center there to handle beef for the U.S. Army.
The Burnett spread was on the San Pedro River near Hereford, and as a neighbor, he had William Cornell Greene, a circumstance that would add one of the more vicious chapters to Co-chise County history. Burnett and Greene disliked each other, probably fated to do so. Burnett was a known scoundrel, a tough guy who had little respect for anyone, who was used to getting his way. Greene was a veteran of the frontier, who did everything from cutting wood to farming, ranching and mining. He had a host of friends, was admired for his dedication, drive, honesty, and intelligence. These neighbors really had little in common.
One thing they had in common was the water on the San Pedro River. In 1897, Greene had placed a small dam on the San Pedro River just above his ranch. James C. Burnett, a neighbor of Greene had a ranch down river a bit, and he had enough water for normal pasture needs. However, Burnett decided to expand his operation, and hired a Chinese crew to build a different dam,
and some suggested that Burnett let it be known to the Chi-nese workers he would not be upset if Greene's dam disappeared.
Sometime during the night of June 24, 1897, the dam was blown up, and the water released. In the afternoon of June 27, Greene's daughters Eva and Ella, along with their friend Katie Corcoran, received permission to go to their regular swimming hole to cool off. Katie jumped in the supposedly shallow pool, and went to the bottom. Ella jumped in, real-ized the horrible change in depth, and yelled to her sister Eva to "go back, go back!" Eva went for help but it was too late. Ella Greene and Katie Corcoran were dead, because the depth of the swimming hole was enlarged from the blasting of Greene's dam.
On July 1, Greene saw Burnett on Allen Street, near the O.K. Corral. He drilled Burnett with three revolver shots, saying later that, "I have no statement to make other than that man was the cause of my child being drowned." Greene surrendered to Chief of Police Charley Wiser, who then turned Greene over to Sheriff Scott White. Greene, Wiser and White were close friends, and they had a shared dislike of Burnett in many ways. In the subsequent circus like trial in Tombstone, Greene was acquitted.
Another version of the Burnett killing comes from Joseph "Mack" Axford's book "Around Western Campfires". Axford says that after Greene learned of the death of his daughter he immediately left Cananea, Mexico for Tombstone. Driv-ing up to the O.K. stables, he found Burnett seated in a chair talking to John Montgomery. Greene got out of the buggy and as he approached Burnett, Burnett threw his hands back in order to get up from the chair and Greene shot him just as he raised up, killing him instantly. Greene raising his hand over Burnett's body said, "God's will be done," and turning, walked down to the courthouse and surrendered to Scott White, the sheriff. By the next morning a half million dollars was available to pay Greene's bail. He was tried but found not guilty–stating that when Burnett threw his hands back in order to raise himself from the chair he thought Burnett was going for his gun.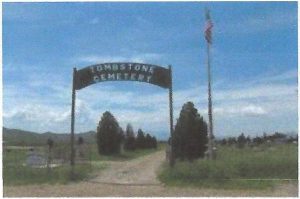 Photo by Nina Grey
Note* According to Axford, the swimming hole was ap-proximately a 1/2 mile south of the Greene ranch and the dam approximately 1/4 mile further.
Burnett's ranch was approximately a mile and a half north of Greene's ranch. The San Pedro River flows north into Arizona from Mexico.
James C. Burnett now lies in an unmarked grave at the Tombstone City Cemetery. Note: Burnett's grave is the 3rd grave East of the Conyers headstone.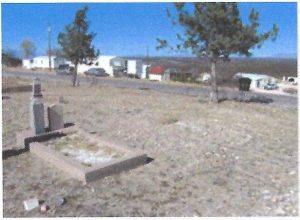 Photo by C. Fahey
Sources:
Cochise County Stalwarts: A Who's Who of the Territorial Years by Lynn R. Bailey and Don Chaput, Westernlore Press, 1st Edition 2000, Tucson, AZ (Photo of James C. Burnett)
Around Western Campfires by Joseph Axford, Pageant Press; 1st Edition (1964), New York
Burial:
Tombstone Cemetery (Old)
Tombstone
Cochise County
Arizona, USA
GPS (lat/lon): 31.7176, -110.0788
Created by: C. Fahey on "Find A Grave.com" Memorial# 19436730