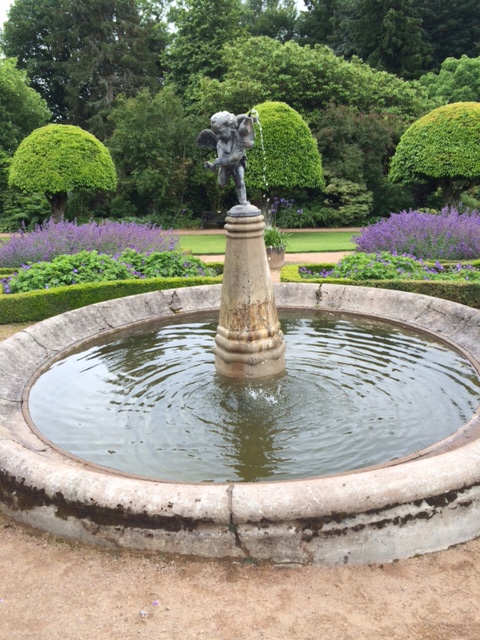 Much has been going on at Crathes to put the property into better shape.
The wall beside the Croquet Lawn was in a serious condition and had to be rebuilt.
The clock on the tower had been allowed to deteriorate and has been given a new face. It did not concern Charles Burnett, former Ross Herald, as he walked past the acativity.
The Fountain in the Blue or Fountain Garden is suffering and there is a plan underway to restore it.
Below is a render of the fountain after completion. As can be seen, it will basically be type same design but with some minor tweaks.
The new design is actually and engineering solution to make sure that in future it can be repaired easily and will not succumb to the freeze thaw of winter – as was the way with the original
By separating each section out into a modular design any one section can be repaired at smaller expense if required.
The addition of the compass points has the same effect for the base and internals whilst adding something to the aesthetics.
The contractors will be using a newly rediscovered product called limecrete.
This has the properties and strength of concrete but is based on a lime mixture which is movable / expandable and moveable with weather conditions.
There is always plenty of annual maintenance for the Garden. Some may think that trees don't require maintenance, but they do. The great Yew Hedges require an annual hair cut the iconic laurel in the centre of the lower garden does not escape such attention.
The Handkerchief Tree in the Rose Garden deserves a picture
The Annual Classic Car Rally at the Milton included a visit to the Castle by a section of the entrants. Car enthusiasts may recognise the models.
Scotland from the Sky
Viewers to BBC may have seen Episode 3 of the programme Scotland from the Sky. This included film of the Burnett Gathering in 2017  and some of those present may recognise themselves. The programme was largely about the historic site in the Warren Field close to the Castle and in which readers may recall has two unusual and enigmatic features.
The field contains the foundations of a timber structure which was an early Neolithic building. The other is an alignment of pits which appears to mimic the phases of the moon and track lunar months. This Mesolithic "calendar" is thousands of years older than previous known formal time-measuring monuments created in Mesopotamia.
The programme symbolises the visits by Hunter Gatherers 10,000 years ago and the Gathering of 2017 – some of whom partook of the hunting and fishing that was on offer.
https://www.bbc.co.uk/iplayer/episode/b0b4fzl2/scotland-from-the-sky-series-1-episode-3