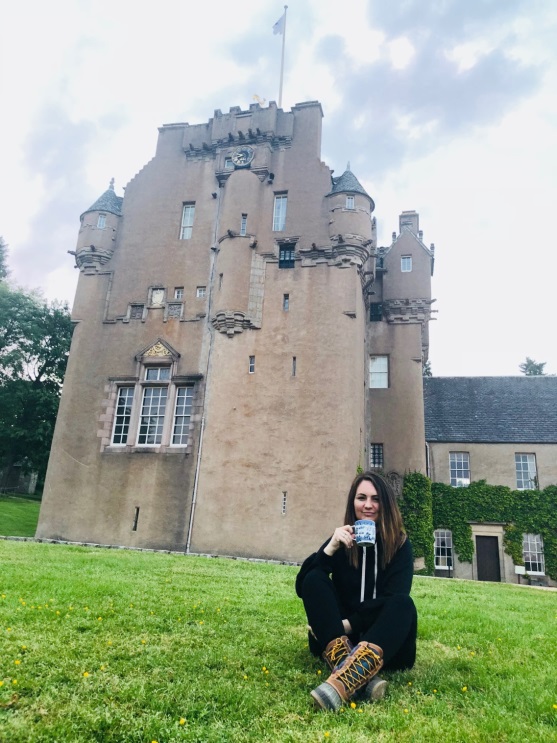 Many Burnetts come to Crathes and there are some with whom I have the pleasure of meeting up.
Erin and Jayme Smith
Erin, daughter of the late John Burnett, founder of the House of Burnett, visited Crathes with her husband, Jayme Smith, towards the end of May.  Jayme and Erin have a business, 3 Rivers Logistics based in Little Rock, Arkansas
They don't mind me reporting that, whilst it was very much Erin's wish to bring her husband to Crathes, they chose to come in May to coincide with the Glasgow Highland Games to which she had been told by her brother Britton that he and I were planning to attend. Unfortunately, it was not clear to them that the Games were in Glasgow, Kentucky ! A bonus for us at Crathes.
Dr Neal and Judith Byrd Burnette
Neal, a retired Colonel on the US Army, is a celebrated Biotechnical scientist. The subjects of his work are beyond my comprehension and possibly other readers, but suffice to say that he is the man behind the Western blot. He has made a major contribution to molecular biology and biochemistry thereby allowing free time for another passion – Golf. Neal and Judith live at Chapel Hill in North Carolina.
Ron and Julia Lang
Ron Lang from Australia and his wife Julia, left, with their friends Lindsay and Julia Joy who is a Brodie.  Ron's grandfather was Edward Burnett and his father from Bavaria
Colin and Maree Burnett Dorn
Colin and Maree visited several years ago when they were on their honeymoon. Fortunately for us, they were house sitting for friends of Alexander and Vinny not far away from Crathes. Photograph with Fiona and Victor.
Anne Young, member of the House of Burnett, and her daughter, Rosie, visited Crathes with seven other members of the Knoxville Choral Society whose sixty members were touring Scotland in June. It seemed strange that I should be able to meet this group who had travelled all the way from Tennessee which I had left the day before after my visit to Glasgow Ky.
A first visit to Scotland visit, unfortunately for them in freezing weather, was for Abby Burnette-Peake and David Humkins from New York. David and Abby have a most interesting business, Dot and Cross, providing entertainment support for designers, producers and vendors. Abby's grandparents, Doctor Harvey Burnett and his wife, had been to Crathes for some the early gatherings.  I met them in the Great Hall beside the newly upholstered chair which had recently been upholstered thanks to the generosity of a member of the House of Burnett
Edward Brown
Here's a photo of the clan outside the castle. We are the Browns of Toronto, Canada. That's me, Edward Brown, holding copy of The Holly and The Horn. Our connection to the Burnetts is through our late maternal grandmother, Ethel Beatrice Conery (nee Brain). Gilbert Burnett (b.1643) was my 10th great grandfather.
Paul and Monchee Burnett and Patrick and Stacey Burnett
The visits to Crathes of two Burnett families happen to coincide Paul and Monchee Burnett from Australia, but living in Singapore and Patrick and Stacey Burnett from Little Rock, Arkansas. I would like to think that I helped them make their visit a little more memorable, if only because Paul asked me if it was possible to meet up with a Highland Cow. As the question was put to me during lunch, I had to reply that he wish could not be fulfilled for 20 minutes. Conveniently, the Aberdeenshire Highland Cattle is located a few hundred yards from the Loch of Leys which we visited to view the Crannog.