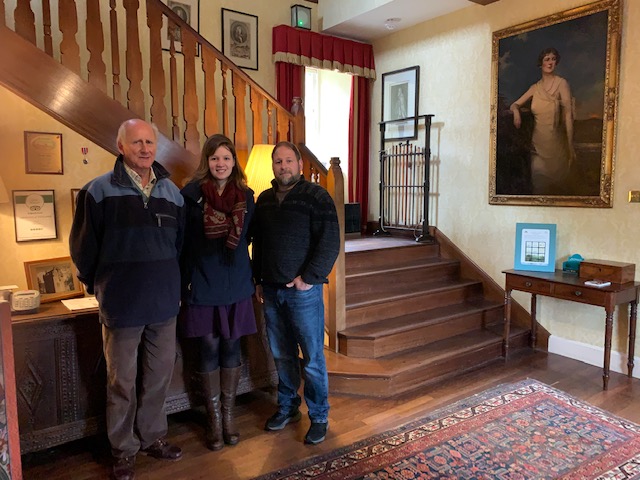 Burnett connected items – some are somewhat tenuously so.
Metal detection, romance and other events
Mouse Thompson
The ugliest church carving as a sequel to the ugliest tree
Greenpower success
Visitor to Crathes
I was fortunate in accompanying Eric Burnette on a solo tour of the Castle guided by Kirsty Haslam, my assistant author for People and Painting (Photo above).
Eric is engaged in Mediaeval Studies at the Universities of Washington and Iowa and so perfect for his castle guide.   When not engaged in his research, Eric is Wrestling Coach Spirt Lake High School, Spirt Lake Iowa and his son, Jonathon Burnette, trains at the Legions of Gold National Training Center and is in the USA Wrestling Program.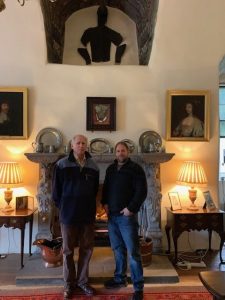 Whenever I accompany a guided tour of the Castle, it is seldom that I don't learn something new. Whilst viewing one of the charters, pointed out were the scarcely visible tiny holes at the side of the parchment and between each line of writing. These were for cotton to be attached to each side of the document to assist the scribe with keeping his work a straight line.
Fiona had to travel to St Petersburg two weeks ago. She was there to bury the ashes of her late sister, Sacha Abercorn. I was at Crathes where we were visited by one of her nieces, Cosima Crawley and her boyfriend, Luke Polaniki, here with Alexander, Victor and Vinny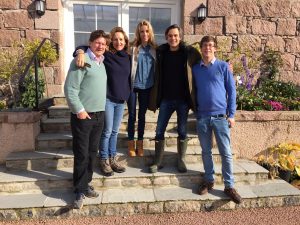 Cosima's father, Randal Crawley, and his brother, Andrew, were sadly killed when their light aircraft crashed 30 years ago. They had come to see his memorial beside the River Don at Ardhuncart, the family property 25 miles from Crathes.
I had in mind to visit Ardhuncart that day because a friend who was staying 50 years ago, lost a ring of great sentimental value and I thought that my metal detecting 'skills' might be put to good use. I therefore offered to meet Cosima and Luke on site and ensure that they could find the memorial.
I did not manage to meet up for whatever reason, but possibly because my presence might not have been welcome. Luke had another ring in mind and it seemed a suitable place to pop the question and maybe at the same time seek Cosima's father's approval. Cosima happily accepted. As she did, by strange coincidence, a light aircraft flew over above them. Maybe it was Randal's way of giving his consent.
We spent the following weekend with Fiona's sister and Cosima's mother, Marita, and her husband, Andrew Knight, who live very close to my eldest brother, Bow, who was celebrating his 80th birthday. Whilst two of our brothers are no longer with us, we were also joined by the fifth, Arthur.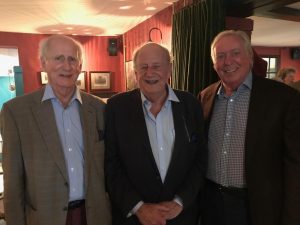 I noticed that Marita and Andrew had a breadboard on which there was a carved wooden mouse.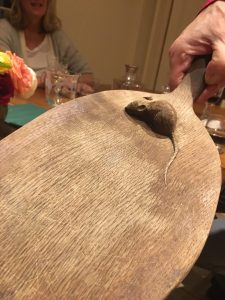 Because the footstool in the Muses room at Crathes Castle is something to which the attention of all visitors is drawn, I have the basic knowledge of Robert Mouseman Thompson, who lived in Yorkshire during the last century and had a business of manufacturing oak furniture on which every piece had a carved mouse.
When I started to inform Andrew of this, I was put firmly in my place as I learned that Ampleforth College, the Roman Catholic public school, was Thompson's largest patron and customer and has a very large number of pieces of his furniture. Andrew was also the Head Boy at Ampleforth and clearly knew much more about Mouseman than I did. I then learned that their local church, St Mary's, Ilmington had, other than Ampleforth,  what is probably the largest number of Mouseman examples anywhere in Britain. I was told that there were 11 carved mice but we only found 4.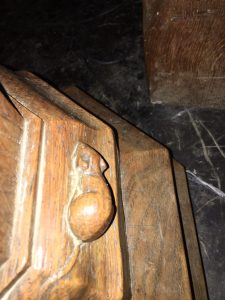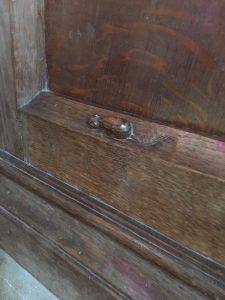 For whatever reason, I showed him the picture of the ugliest tree in Britain which is at my Amherst grandparents' home, Stowlangtoft in Suffolk and which readers may have noticed in in the last Banner. I then learned that the ugliest church memorial in Britain is at my brother's church All Saints at nearby Honington. Little time was lost before I saw it, the Joseph Townsend memorial.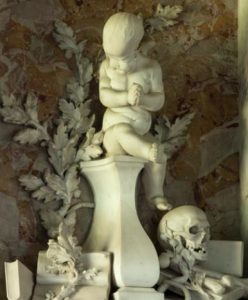 It is the work of Sir Robert Taylor, the 18th century architect who was responsible for much of the Bank of England. With the skills of his earlier career of stonemason and sculptor, he created at least one other similar work, but without the encephalitic appearance of the figure at All Saints and which may have reflected a condition of the deceased. Ironically, the church is only a few yards from Honington Hall, which is regarded as one of the most beautiful houses in the country.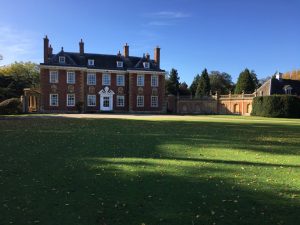 Nearer to home   – or not, but as a follow up to the last Banner, I must record the success of the Banchory Academy students' electric car, "50 Shades of Green" at the International Greenpower Final at Silverstone on Thursday 17th October. I am grateful to Chris Engel, my metal detecting associate, for this report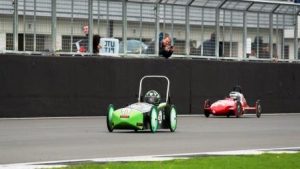 This event was very well attended with 100 cars all competing in two races. Teams were mainly from the UK but there were also teams from China, Portugal, Poland and Singapore.
All teams had built their own cars- either from a standard kit or from scratch. The Academy car was built from scratch two years ago and underwent a programme of performance enhancing upgrades earlier this year.
It was never expected that they would win the race but hoped to do well. The car performed flawlessly in practice and in both races, finishing in 27th place in a field of 100 cars entered. Distance covered in the 90 minute race was 34.4miles and an average speed of 22.7mph. The fastest lap was 25.7mph.
This result means that Banchory Academy is the top school/college team in Scotland and in the top 10% of all Greenpower teams in the UK
Perhaps the biggest achievement has been the amount that the students have learned – both theory and practical.