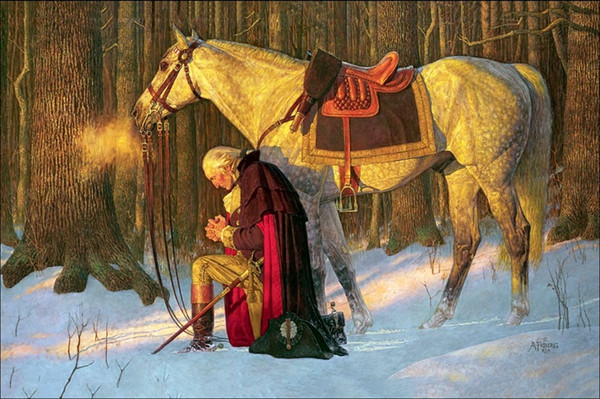 "OUR LIVES, FORTUNES, AND SACRED HONOR"
Burnetts in the War for American Independence: Part III
Terry Burnett
Introduction
This is the third in a series of sketches on the military careers of the more than thirty Burnetts who served in the Continental Armies during the War for American Independence. Information for these sketches is taken from veterans' and survivors' Pension Applications and related documents, from unit muster rolls, from Continental Army unit histories, and from other sources as they are available (with a heavy reliance on Wikipedia!).  By way of disclaimer, I am neither a professional (or even amateur) genealogist or historian but am simply one who loves history and my family – the House of Burnett.  And while I hope these sketches provide some new information to members of the House, I also heartily solicit corrections and additional information that will shed even more light on the careers of these brave Burnetts who risked their "lives, fortunes, and sacred honor" for the glorious cause of American Independence.  My hope is that those who read these sketches will be motivated to dig deeper into their own Burnett genealogy and to share it so that we may all learn and grow toward a better understanding of our proud and common heritage.
Philadelphia Campaign, Valley Forge, and Battle of Monmouth
On September 15, 1776, the British captured and occupied New York City. The city would remain under British control until the end of the war. During the remainder of 1776 and the winter of 1777,  General William Howe used the city as a base of operations to drive Washington's army out of New York and New Jersey.  Neither army, however, was able to gain a decided advantage and except for Washington's stunning Christmas/New Year's successes at Trenton and Princeton, the combatants settled into an uneasy stalemate in northern New Jersey.
But Howe was not content to simply exist in a stalemate – he needed to quash the rebellion. So, in August of 1777, he placed his army on transports and landed 15,000 troops at the northern end of Chesapeake Bay. His goal was to bypass the New Jersey battle lines, march overland and capture Philadelphia, the seat of the Continental Congress.  In Eighteenth century warfare, capturing the enemy capital was tantamount to winning the war, so the British believed that by taking and occupying Philadelphia, the rebellion would disintegrate.
On September 11, Washington attempted to stop Howe's advance at Brandywine Creek but the British outmaneuvered his force and marched unopposed into Philadelphia on September 26. The Continental Congress simply moved a few miles away to Lancaster, while Washington shadowed the British force and went into winter quarters on December 19 at Valley Forge, approximately 18 miles northwest of the former capital.
While the British spent the winter warmly garrisoned in Philadelphia and nearby Germantown, Washington's army of approximately 10,000 men encamped in the raw winter of Valley Forge. Those desperate six months almost cost Washington his command, resulted in the deaths of between 1,500 and 2,000 soldiers, and nearly broke the revolutionary movement.  But by the time the army marched out of Valley Forge on June 18, 1778, it was better trained and disciplined than ever before (primarily due to the expertise of Prussian Baron Friedrich von Steuben), better organized with better morale, and far better able to match its highly trained foe in the exacting demands of eighteenth century warfare.  The Valley Forge Winter has gone down as one of the seminal events in the history of the founding of the Republic.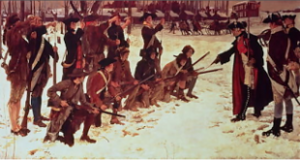 Baron Steuben drilling troops at Valley Forge
Washington chose Valley Forge not only because of it's proximity to Philadelphia, but because it offered easily defensible, yet isolated terrain, and because it was situated close to the Schuylkill River for supply purposes. Quakers built a small village with an early iron works there in 1742, so there were a few buildings in place.  The site also featured a large open area suitable for military training.  Ultimately, the army constructed between 1,300 and 1,600 permanent and semi-permanent structures on the site.
Much has been made (and the legend continues) about the deadly winter of 1778 at Valley Forge. Many paintings depict ragged soldiers in the snow, and one of the most famous paintings shows Washington on his knees praying for his troops.  But the reality was that the weather that year was relatively mild.  Temperatures were certainly cold, but not brutally so, and the snowfall was not as great as myth-makers suggest.  Still, at least 10% of the army perished.  Supply lines were inconsistent and food mostly inadequate.  Warm clothing and shoes were hard to come by, and the Marquis de Lafayette, writing years later, said, "the unfortunate soldiers were in want of everything; they had neither coats, hats, shirts, nor shoes; their feet and legs froze till they had become almost black, and it was often necessary to amputate them." Disease was also rampant.  Hundreds of soldiers succumbed to dysentery, typhoid, influenza, pneumonia, and typhus caused by body lice.  Interestingly, in January 1777, Washington had ordered his troops to be inoculated for smallpox.  He discovered later that 3,000-4,000 of them had not done so and he ordered another round of inoculations.
Besides simply surviving the winter, the most significant outcome for the Continental Army was its re-commitment to a disciplined training regimen. Washington divided the army into five divisions at Valley Forge.  This helped reorganize the Army based on unit strength, terms of service, and training.  The reorganization also helped Washington fend off political challenges to his leadership by some fellow officers, as well as certain members of the Continental Congress.  It is possible that at least some of the criticism leveled at Washington was because the army was so ill-trained.  Officers had used a variety of drill manuals and inserted their own idiosyncracies into everything from marching and battle formations, to bayonet drills, to shooting (volley) practices.  Baron von Steuben brought standardized techniques to all of these areas with the result that the army that marched out of Valley Forge in June was much more like a modern European army and was thus much better suited to eighteenth modes of century combat.
In fact, in its first real test following Valley Forge at the battle of Monmouth on June 28, the Continental Army performed admirably and after an inconclusive battle, essentially forced British General Henry Clinton's army to abandon the field and ultimately march back to Manhattan. Both sides claimed victory, but in this, the last battle of the Philadelphia Campaign, the army showed signs of improved morale, performance and discipline.
Burnetts at Valley Forge
The Valley Forge Legacy Muster Roll Project lists five soldiers with the Burnet surname and eight soldiers with the Burnett surname as present from December 1777-June 1778. These soldiers hailed from seven different states.  I have included a listing with comments below.
Private Benjamin Burnet – Maj. Gen. Charles Lee's Division, Brig. Gen. James Varnum's Brigade, 4th Connecticut Regt.
Maj. Ichabod Burnet – state unknown, Appointed Aide-de-Camp to Maj. (Quartermaster) Gen. Nathanael Greene in March, 1778.
Private John Burnet – Brig. Gen. William Maxwell's Brigade, 1st New Jersey Regt.
Private Midleton Burnet – Maj. Gen. William A. Stirling's Division, Brig. Gen. Peter Muhlenberg's Brigade, 2nd Virginia State Regt.
Surgeon William Burnet – Maxwell's Brigade, 1st New Jersey Regt.
Private Bond Burnett – Stirling's Division, Brig. Gen. George Weedon's Brigade, 6th Virginia Regt.
Private David Burnett – Maj. Gen. Marquis de Lafayette's Division, Brig. Gen. Lachlan McIntosh's Brigade, 2nd North Carolina Regt.
Private George Burnett – Maj. Gen. Thomas Mifflin's Division, Brig. Gen. Anthony Wayne's Brigade, 1st Pennsylvania Regt.
Private James Burnett – Maj. Gen. Johann de Kalb's Division, Brig. Gen. Ebenezer Learned's Brigade, 9th Massachusetts Regt.
Private James Burnett – Lafayette's Division, Brig. Gen. William Woodford's Brigade, 7th Virginia Regt. (Note: James Burnett is my direct ancestor)
Maj. Robert Burnett – state unknown – the Muster Roll Project notes that he was Aide-de-Camp to Gen. Nathanael Greene, so he may have been the same person as Maj. Ichabod Burnet, listed above.
Private Rubin Burnett – Stirling's Division, Muhlenberg's Brigade, 1st Virginia. Note: he is listed as sick starting in December and as having died in February, 1778.
Sergeant Thomas Burnett – Stirling's Division, Brig. Gen. Thomas Smallwood's Brigade, 3rd Maryland Regt.
These brave men served their country and its cause with Washington's army at the Valley Forge encampment, contributing – one with his very life – to the legend of that seminal event in U.S. history. If any reader recognizes the name of an ancestor and has further information about his service, please feel free to contact me at tburnett@scbar.org.