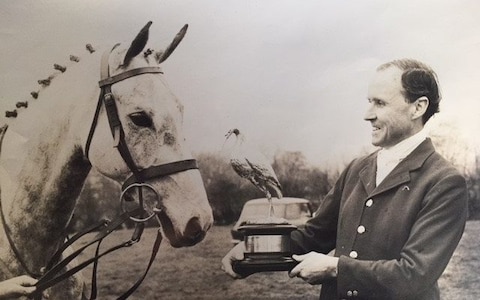 Jerry R. Burnett
Lieutenant Colonel Robert Strachan
Major General Charles Ramsay 1936 – 2017
We were very sorry to hear of the death of Jerry Burnett at the end of November.  Jerry came to the 2013 Gathering with Brenda to whom, with all family and friends we send out sincere condolences. Below is an obituary to Jerry and which demonstrates the close Burnett ties.
Jerry R. Burnett, 76, of Hoover, Alabama, passed away on Wednesday, November 29, 2017. He retired from State Farm Insurance in 2013 after owning a successful State Farm Agency in Birmingham, Alabama area for 49 years. Jerry was a long-time member of the Shades Mountain Church of Christ, where he served as treasurer for 32 years. He and his wife, Brenda loved to travel and visited over 20 countries, but Jerry's favorite place was always at home.
Jerry was a kind and gentle man who loved his family. He enjoyed serving his community and helping others. He will be greatly missed by those who knew and loved him.
Jerry is survived by his wife Brenda, two daughters, Jerri Burnett and Trina Geram.
Jerry, Brenda and Jerri joined the House of Burnett at the Las Vegas Reunion. Jerry carried the House of Burnett Banner during the Clan Parade.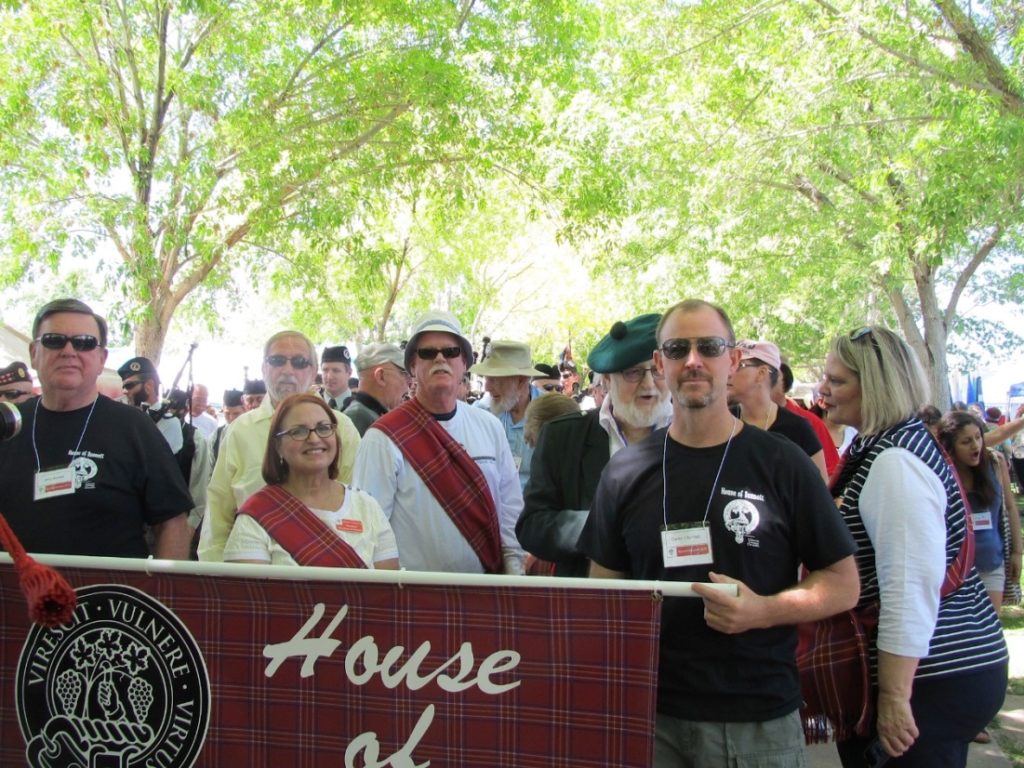 Jerry is on the far left, (black t-shirt) behind the House of Burnett Banner. Also pictured is Jacky Daugherty, behind her, the late John A Burnett, Mike Burnett, our Treasurer, Leland Burnett in the green Tam, and Carey Burnett in the black t-shirt. Also visible are Joan Rogerson in the navy striped shirt and George Mead in the tan hat.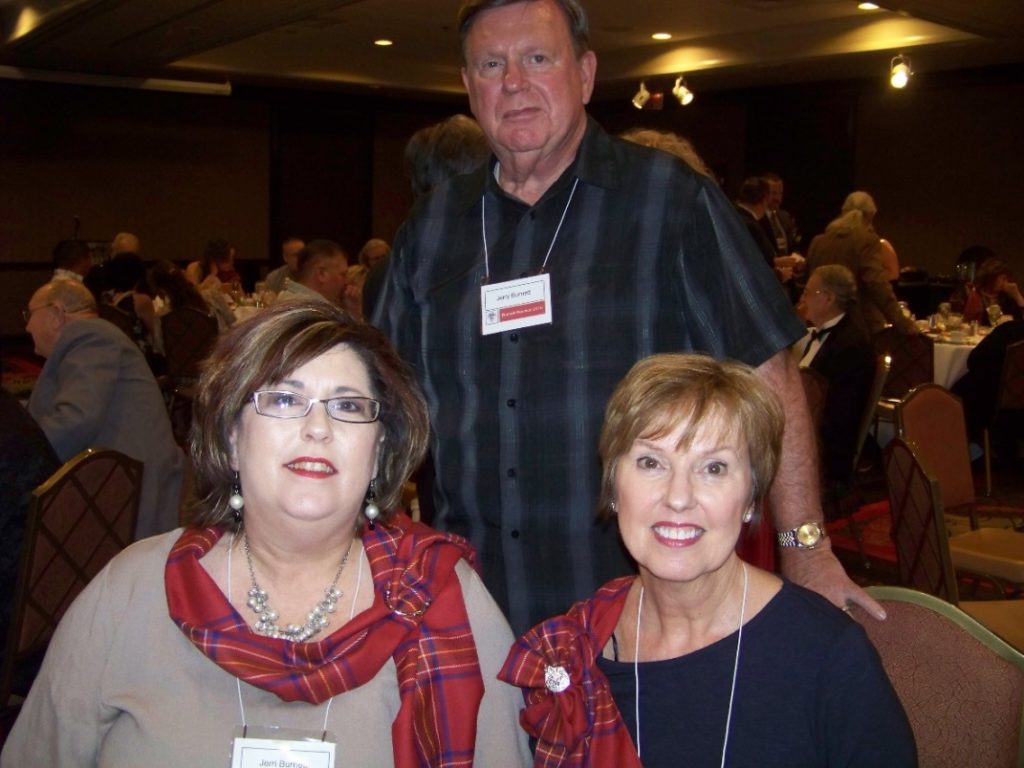 Jerry with his wife, Brenda and daughter, Jerri at the Reunion Dinner, held at the Golden Nugget Hotel Casino, Las Vegas, April 2015.
Lieutenant Colonel Robert Strachan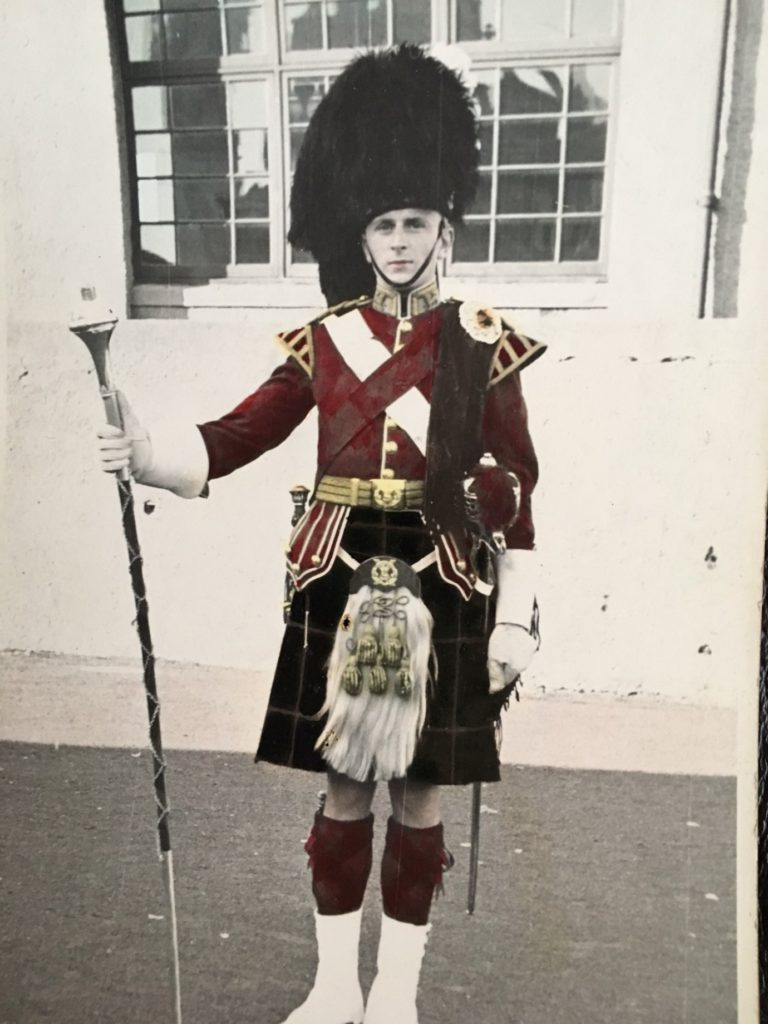 Although not a Burnett, his relationship with the Burnett family, from his early years in the Gordon Highlanders in my grandfather's day, to  his recent passing, justifies  his mention in the Banner.   Bob was a huge help  with the establishment of the Banchory Pipe Band, of which the members wear our Burnett of Leys tartan and cap badges.  He was a Banchory boy himself and his presence, influence and ability to locate the occasional piece of dress or equipment, contributed to the success of the band.
Accepted into the regiment as a cadet at the age of 14, Bob rose from Private to Lieutenant Colonel and remained as Regimental Secretary for 10 years after his retirement. He was instrumental in the creation of the Gordon Highlanders Museum to which is highly recommended for visitors to Aberdeen.
He was aptly summed up in a letter from The Prince of Wales on his 80th birthday . "You have become the personification of all that was spiritual and still is, about the Gordon Highlanders – a healthy pride, courage, professionalism and humour."
Major General Charles Ramsay 1936 – 2017
It was with sadness to many that know to the recent death of Sir Thomas's great-great-great-great-grandson, Charles Ramsay. Although I did not know him well, I met Charles on several occasions and found him to be all that his obituary describes. His son and daughter-in-law, Will and Natasha are close friends of Alexander and Vinny.
Readers may be aware of the Burnett Ramsay connection. Sir Alexander (Burnett) Ramsay was the second son of Sir Thomas Burnett of Leys, the 6th Baronet, his mother being the heiress daughter of Sir Charles Ramsay of Balmain.
Major General Charles Ramsay, who has died aged 81, was a larger-than-life character with an appetite for adventure which peacetime soldiering could not, perhaps, wholly satisfy.
Ramsay was a man of high courage, unshakeable principles and total integrity. He had a good brain and once he had decided that a particular        course of action was the right one, nothing would persuade him to take an easier path. He was a natural leader and, had there been a major war during his career, he had qualities which his country would have found invaluable. As it was, danger held an irresistible attraction for him.
Charles Alexander Ramsay was born at North Berwick, East Lothian, on October 12 1936. His grandfather, Brigadier General William Ramsay, commanded the 4th Royal Hussars in India in the late 1890s. One of his subalterns was Lieutenant Winston Churchill, who wrote, in a letter to his mother: "I am now getting on quite well with Colonel Ramsay who takes my advice in most matters."
Charles Ramsay's father, Admiral Sir Bertram Ramsay, was responsible for the evacuation of Dunkirk in 1940 – for which he was knighted – and the planning and command of the naval forces in the invasion of France. He was killed in a flying accident in 1945.
Young Charles was brought up at Bughtrig House in Berwickshire. His remarkable powers of persuasion were evident from an early age. He once convinced his brother, David, that if he opened an umbrella, he would float gently down from the first floor balcony. David, fortunately, suffered nothing worse than a sprained ankle.
He went to Eton and, in his last half there, he bought a second-hand MG and persuaded a garage owner in the High Street to hide it for him. In 1955, he went to Sandhurst and, the next year, he was commissioned into the Royal Scots Greys.
He became friends with the racing manager at Jaguar and, while serving in Germany, where there was no tax to pay, he bought a succession of sports cars in their XK range – 120, 140 and 150. After three years in BAOR, he was posted as adjutant of the Ayrshire Yeomanry. He learnt to fly at Carlisle and kept a Beagle Airedale, a single-engined aeroplane, at Prestwick..
Ramsay spent a year at the Canadian Army Staff College and then took up a staff appointment at HQ UK Land Forces. In 1969 he had a bad fall on the Cresta Run and ruptured his liver. He needed a large blood transfusion, but was given contaminated blood. He recovered, despite the doctors having given him only a five per cent chance of survival.
After joining the 3rd Carabiniers in BAOR, he commanded a squadron in South Armagh where the Troubles were rife. On one occasion, in his Land Rover, he was fired at; the bullet passed just over his head.
He instructed at the Junior Staff College, Warminster, and then became  Military Assistant to the Vice Chief of the Defence Staff in Whitehall. This was the first of four appointments in the MoD. In 1977, at Catterick, Yorkshire, he assumed command of the Royal Scots Dragoon Guards, an amalgamation of the 3rd Carabiniers and the Royal Scots Greys which had taken place in 1971.
In 1978, in what was the highlight of his career, he commanded the Regimental Tercentenary parade in Edinburgh. This was attended by the Queen and a consisted of a band of pipes and drums, a mounted contingent and 30 tracked vehicles, including 15 Chieftain tanks. He persuaded a nervous Edinburgh Council to allow the parade to travel over the gas mains down the length of Princes Street. In the event, the only casualty was a demolished traffic light.
In 1985, he was promoted to major general on becoming GOC Eastern District. His final appointment was that of Director General of Army Organisation and the TA. His superior at the time asked him to write a paper recommending changes to the organisation of the Army. Ramsay consulted widely and his plan had the support of the Army Board. His boss, however, disapproved of it and ended Ramsay's chances of further promotion. He was appointed CB on his retirement from the Army in 1990.
Ramsay lived at Bughtrig, the Georgian family house which he had inherited in 1975. He and his wife subsequently moved to a smaller house where they farmed about 1,000 acres. He had always wanted to re-establish his family's links with the Highlands and when an estate at Glen Lyon, Perthshire, came on the market, he bought it.
He hunted, played polo and won point-to-point and cross-country races, having his share of heavy falls. He hated being in hospital and, on one occasion, discharged himself while concussed and with the drip still in his arm. Latterly, he trained his point-to-pointers at Bughtrig, with his children, William, Rowena and Charlie, riding most of them. As an owner, he also had wins under National Hunt Rules.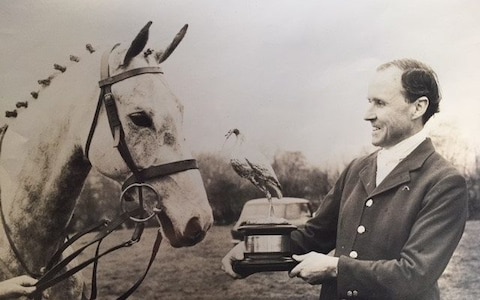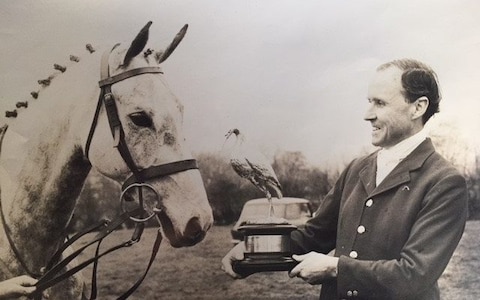 Charles Ramsay winning his regiment's Sprot Cup, 1977
For some 13 years, he was on the board of John Menzies, his mother's family business, based in Edinburgh. Ramsay was Honorary Colonel of the Royal Scots Dragoon Guards from 1992 to 1998 and then took on the responsibility of chairman of the Regimental Museum and the shop in Edinburgh Castle.
Major General Charles Ramsay married, in 1967, Mary MacAndrew, the daughter of Lord Charles MacAndrew. She survives him with their two sons and two daughters.