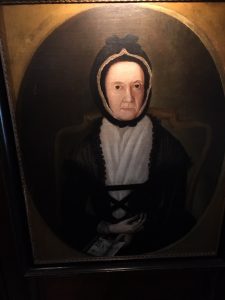 I was privileged to lunch recently with Alastair and Fiona Macphie at Glenbervie House in Kincardineshire. Alastair is a descendant of James Burnett, Lord Monboddo.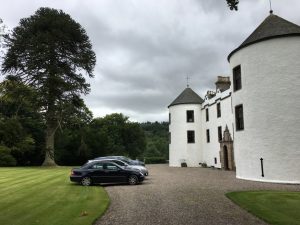 The following Glenbervie House subjects might be of interest to Burnetts – in addition to the magnificent Monkey Puzzle tree at the front of the house.
Visitors to Crathes will be aware of the 16th Century Painted Ceilings and how they were hidden from sight for some 200 years. Painted Ceilings went out of fashion and many were plastered over to comply with the new vogue.
Glenbervie has an unusual plaster ceiling of a not dissimilar date t that of the Ceilings at Crathes which were painted on the underside of the floorboards of the room above. The Glenbervie Ceiling has been plastered and painted – too resemble wood!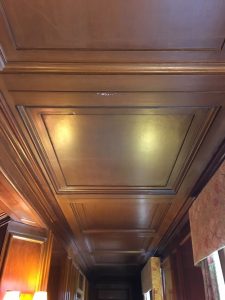 Sir Thomas Burnett, the 1st Baronet, married Margaret Douglas, eldest daughter of Sir Robert Douglas of Glenbervie, second son of the 9th Earl of Angus and to whom, "allusions are made in the letters of his Uncle Duncan. Excellent advice is contained in these letters on the duties of a husband."
Sir Thomas's grandson, Robert, purchased the lands of Glenbervie, from his cousin-german, Robert, who had received them from his father, Sir William Douglas of Glenbervie. He then proceeded to marry Sir William's daughter Katherine who became heir to that branch of the Angus family.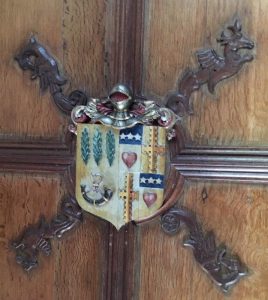 Arms of Burnett of Leys and Douglas of Glenbervie on the ceiling of the Long Gallery at Crathes Castle.
Alastair showed me this portrait of the somewhat austere lady above and is of the opinion that she is a Burnett. There is no indication on the painting as to who she is. She could be Margaret, Katherine or one of Katherine's daughters, or someone else completely. Maybe he is trying to disown her!