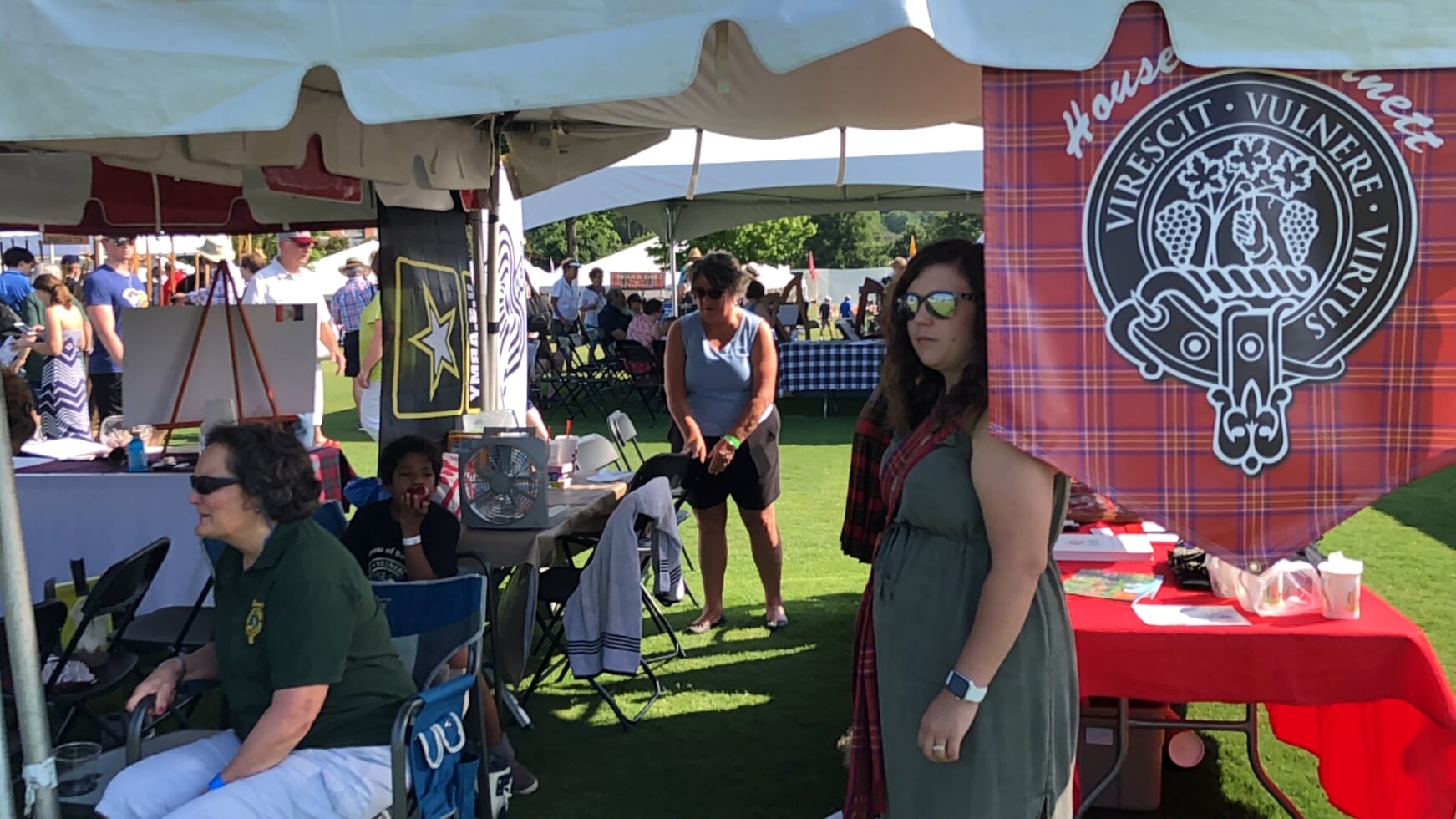 Greenville Highland Games
For the first time ever, the House of Burnett convened with a tent and a robust presence at the Greenville, South Carolina Highland Games on May 24-25, 2019.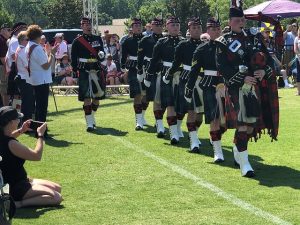 On Friday evening, the Games kicked off with the "Great Scot! Parade" through downtown Greenville.  Lt. Col. Campbell Close (Games Chief) and a detachment from the Royal Highland Fusiliers (2Scots) led the parade, impressively arrayed in full dress uniforms.
The parade included thirteen pipe and drum bands from around the southeast, several floats, and more than 35 clans.  The House of Burnett proudly marched 15 participants, including Lieutenant Jim Burnette, piper Jonathan Blum, athletics competitors Brent and Brian Burnett and families, and Convenors Terry and Sally Burnett, daughter Anna Shumpert and her daughters Layla, London and Annabelle, and of course Lily, Terry and Sally's miniature American Eskimo (and unofficial House of Burnett South Carolina mascot).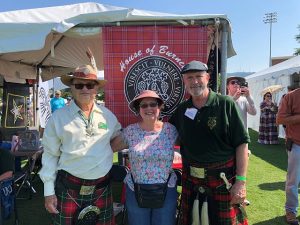 Jim Burnette, Laura Ann Mayfield, Terry Burnett
            The Games were held on the campus of beautiful and historic Furman University, in the shadow of the Appalachian foothills.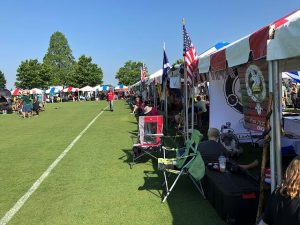 The games featured dozens of clans and family associations, a number of vendors, music and dance competitions, and of course, a full range of heavy athletics.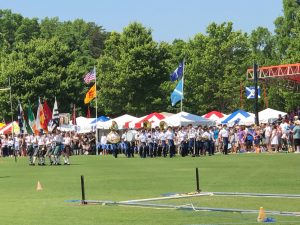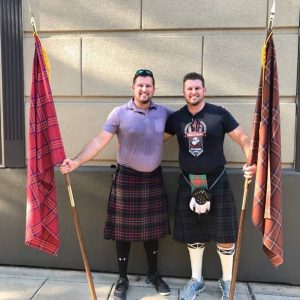 Brian and Brent Burnett gave the rest of us plenty to cheer about as they both set personal yearly bests in several events.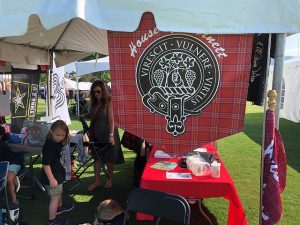 London and Anna Shumpert,
Convenors Terry and Sally Burnett decorated the House of Burnett tent with Burnett flags, banners, and posters, as well as a robust offering of Sally's famous pimento cheese and chicken salad.  No one who visited the tent went away hungry!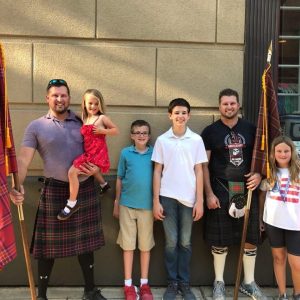 Brian Burnett with Emilie (7) (Brent's daughter) Bronson (11) (Brian's son) Brock (13) (Brian's son) Brent Burnett and his daughter Alana (10)
We welcomed several old friends to the tent, including Jonathan and Liz Blum (Burnett), but we were also pleased to make some new connections, including Laura Ann Elizabeth Mayfield, whose mother was a Burnett, Kent Burnett and his son Kent, Jr., Gordon and Elizabeth Burnett, and Paula Kaigler, whose father was Dave Burnett of Gallatin, TN, as well as Jim's old friend attorney John Creech, and Danny Skinner and Corrine Reed, Board Members (along with Terry) of the Robert Burns Society of the Midlands. Several of these family visitors joined the House of Burnett and all others with Burnett connections took applications.
Kent Burnett Sr and Kent Burnett Jr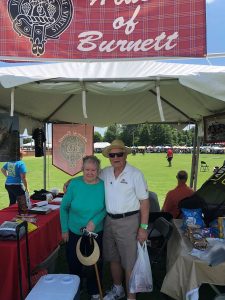 Gordon and Elizabeth Burnett
We were also honored to have a personal visit from Lt. Col. Close, who spent several minutes with us on his tour of all the clan tents.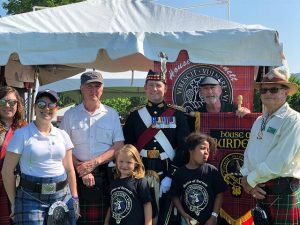 Anna Shumpert, Corrine Reed, Jonathan Blum, Lt. Col. Campbell Close, Terry Burnett, Jim Burnette Front Row: London Shumpert, Layla Shumpert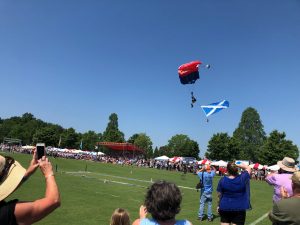 The highlight of the Games, however, was the very impressive Memorial Day Weekend Military Tribute.  The ceremony began with a march-in by the Royal Highland Fusiliers and a moving welcome by Lt. Col. Close.  Next came a special flyover of WWII vintage warplanes in the "missing man" formation, followed by a memorable parachute demonstration in which "Old Glory" and the Scottish Saltire were brought to the center of the filed by expert parachutists.
Detachments of the SC State Guard next entered the field, followed by the massed pipe and drum bands who played the US and British national anthems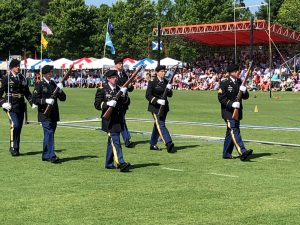 Finally, there was a 21 gun salute to our fallen war heroes and a special recognition of living veterans attending the Games.  All in all, this tribute was one of the most stirring and memorable I have ever witnessed and accentuated the close familial bond between our two great cultures and nations.
Despite temperatures in the upper 90s, everyone had a fabulous time.  We ate, drank (lots of water!), laughed, and embraced our shared heritage as only Burnetts can.  If you are anywhere near Greenville on May 22-23, 2020, I want to strongly encourage you to attend next year's Greenville Highland Games.