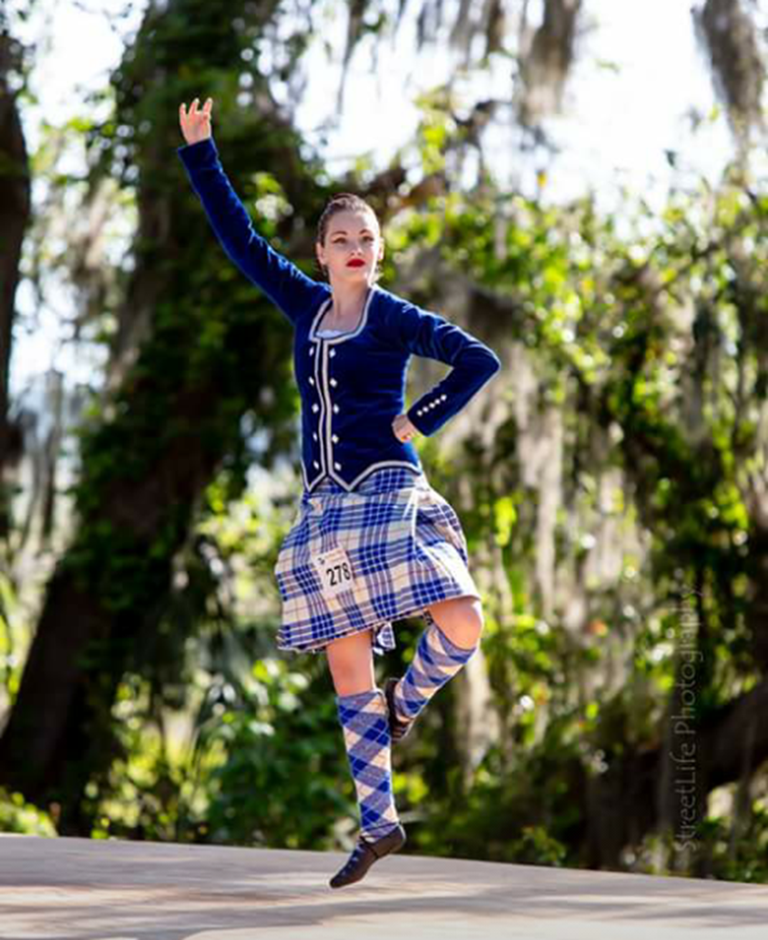 Central Florida Games
A Scottish Highland Dancing Star
and
The House of Burnett
The House of Burnett was very much in evidence at the Central Florida Games thanks to Holly Kafura and her family who were responsible for the tent and assisted by Jim Burnette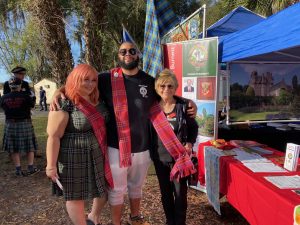 Audrey Trawick
A Highlight of the Games for the House of Burnett was the association of the House of Burnett and the young star of the Scottish Highland Dancing, Audrey Trawick whom was known to the House of Burnet from other games. She was placed 3rd against the world champion at these games.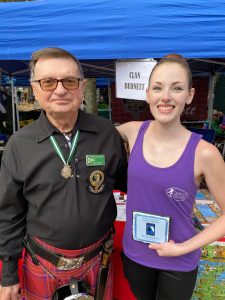 The House of Burnett is very pleased to have assisted Audrey with her career with a contribution of $500 which was handed to her by Lieutenant Jim Burnette.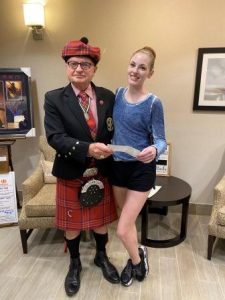 There is much that I could say about Audrey's achievement and aspirations but it is best that it comes from her. It is more appropriate that I add at the foot of this article, her informative and appreciative letter to the members of the House of Burnett.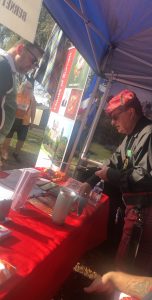 Presiding was Lord Hay, whose father. Lord Errol, is a regular neighbour at the Aboyne games and gave us a "Hi Neighbor" as we went by in the tartan parade.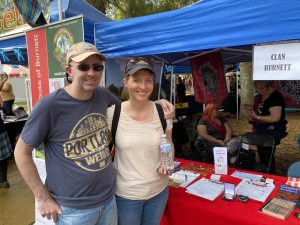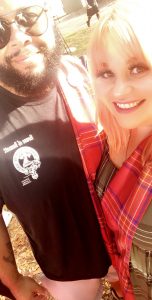 There were 90 clans that attended and the largest number of clans and attendees ever at these games.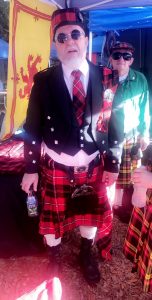 Amongst visitors to the tent wee Chris and Liz Stockdale (below) who coincidentally live near Crathes.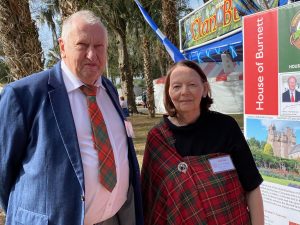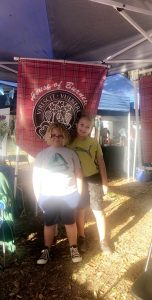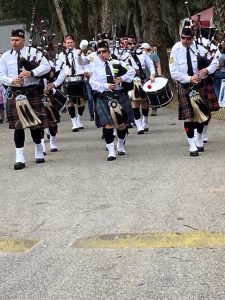 From Audrey Trawick  1/25/2020
Dear Clan Burnett Society members,
Hello, my name is Audrey Trawick. I had the lovely pleasure of meeting with your Clan members at the Orlando Championship this past weekend, and after talking with them they strongly suggested that I write in inquiring about any dance Scholarships that you might be able to offer me. I would like to take a minute of your time and tell you a bit about myself, as well as the goals I've made over the previous years, and my future aspirations and a Scottish Highland dance teacher and competitor. Its really important for me to express my gratitude to your organization. Scholarships of any size have had a tremendous impact and contributions to the success of many aspiring Highland dance competitors and teachers such as myself. Without the financial support of past Scholarships, I strongly feel that it would have been very difficult for me to make and achieve my goals due to financial hardships. Many, many thank you's to all that you do to contribute to the Scottish community in support of keeping Scottish heritage and culture alive. I have the deepest admiration for all that the Clans and organizations do.
I have been dancing for almost 5 years now, 2-½ of these years I have been dancing at a Premier level; which is the highest category of Highland dance. Last year I made several personal goals to travel and to compete in 4 open championships, to become an Associate Highland dance teacher, and to attend multiple Highland dance workshops in the Midwest and Southeast Regions; to enhance my performance as a competitor and to further educate myself as a Highland dance instructor. I am extremely pleased to share with you the outcome and success of these goals once again.
Last year I attended the Orlando FL open Championship (placed 4th overall), Dunedin FL open Championship (placed 5th overall), Savannah GA Regional Championship (placed 5th overall), and the USIR Las Vegas open Premiership competition (Placing 7th in the Johnny). I made sure that while I was attending these competitions, to participate in any workshops that were available during my time there. One of the hardest but most gratifying experiences that I had, was when I was attending the Ohio Scottish Arts School (OSAS) week long workshop. While I was there, I took my associate teachers test, which typically takes several hours of oral testing and requires multiple years of training and education beforehand. I was extremely nervous but determined to pass this test and was hoping to be able to have a certificate that holds the highest recommendation of "Highly Commended". I was required to wait approximately 2 months before I received feedback regarding my Associate teacher's examination. The day that my results came in the mail, I was so overjoyed that I passed with a "Highly Commended" score; (which is the highest-ranking accommodation you can receive) that I burst into tears and cried because it was one of the hardest but most gratifying experiences of my Highland dance career.
Now that I am a certified Associate Highland Dance instructor, I am authorized under the Scottish official Board of Highland Dance (SOBHD) to teach and instruct Scottish Highland dance under the supervision and guidance of an instructor that holds a (Members Certificate) which is a more advanced teaching Highland Dance Certificate. In order for me to obtain my Members Degree, I must acquire a certain amount of teaching hours that involves a lot of volunteering & teaching in the community. Over the last year and a half, I have had the opportunity to help and volunteer at my previous dance teacher's studio and have currently acquired a total of 620 volunteer teaching hours of Highland dance and choreography instruction. One of the most new and exciting experiences I've had this year is the opportunity to choreograph a mixed Highland dance choreography for the annual Celtic Festival in Dunedin Florida this past November. This is one of the many volunteer contributions that I have been a part of over the last 1- ½ years within the Highland dance community.
Along with teaching, and competing, one of my other joys is sharing our Scottish history and culture through multiple community performances and events throughout the year. Currently, I am working with local church communities to offer free Highland Dance classes for the youth so that I can acquire the necessary teaching hours that I need to take my "Members exam" this coming year at OSAS, and to also help spread education and awareness of the Scottish culture and heritage that I am so proud to be a part of.
The reason that I am applying for a scholarship with your organization, is because I would like to once again attend the United States Inter-Regional Highland Dance competition in Denver, Colorado this July, 2020. The cost is for this competition usually runs $60.00 per person per competition. The competitions/programs that they would be offering are: Pre-Championship competitions, Scottish Nationals, Closed Regional Highland Championship, Scottish Choreography, and the North American Open Championship which is a World level open Championship competition for all premier dancers. They also offer educational teacher workshops which are generally free for teachers and dancers that travel to this competition. Below is an explanation of the cost which I would need, associated with the workshops, competitions, and examinations for this event.
Airfare typically runs approximately $300.00 for a round trip ticket with Southwest. And to take my "Full Members" exam it will cost $350.00. I have plans to travel to Colorado with some family friends, stay with them at their home to reduce the expense of hotel and restaurant costs. Workshops are available at no cost for the teachers and I plan to Compete at the North American Open championship on Sunday. If I am awarded any Scholarship money from your organization, I would like to put the funds toward extensive private lessons with Mrs. Mary Susan Sinclair-Kuenning who is a 2x- 1st runner up World Champion at Cowal, and past regional representative and multi Championship winner at previous USIR competitions. Her knowledge and experience is very valuable as a teacher as I aspire to compete at a World level. Private lessons with Mrs. Mary Susan would cost me $35 for a 45 minute private lesson. I would like to receive 2 private lesson per month for 6 months if possible, which would cost a total of $420. To attend this event and represent my region and school well, I would need a total of $1,070.
Currently I have a part time job. I work at Skecher outlet mall for minimum wage. I am currently working to pay for my group lessons and private lessons each month. Group lessons cost me $180.00 and private lessons I try to take whenever I can afford them. My grandparents contribute to my dance lessons whenever they can and my parents are very diligent in making sure I attend the competitions, workshops, and performances that I have committed to. As a family, everyone has sacrificed to help me to cultivate my talents and have contributed to my overall success as a competitive dancer and Associate instructor. My dad works for the United States Postal Service and has been out of work for several months due to an on the job injury. His injury recovery time after surgery is expected to be another 6 months for a torn rotator cuff. Without Scholarship support this year I fear our family will not have the funds necessary to send me to the USIR in Colorado.
My sincerest gratitude and admiration for everything that your organization does. Thank you for taking the time to read my letter and get to know me. I know that you no longer award Scholarships, but the Clan members that I met in Orlando encouraged me to reach out to your organization and apply anyway. I promise if I am awarded any Scholarship funds that I will update your organization with any and all of my accomplishments throughout the competition year, no matter how small or how great they might be.
Sincerest appreciation for your time,
Audrey N. Trawick.