This article has no particular point to it – that I can see- but maybe it does. Regardless, it is worthy of recording.
For 15 years before I came to live at Crathes, the Estate was looked after by a trustee and old family friend, Alec Bowhill, who owned Inchmarlo which was later sold and part of it has become within the Leys Estate. Many Gathering Burnetts have stayed at the Inchmarlo Villas. Alec became almost a father to me, since my own father was killed when I was one, and I stayed with him and his wife for several weeks after the Castle fire in 1966. When we built the House of Crathes, to replace our home in the Castle, they gave us a Horn of Leys weathervane for the House of Crathes
Alexander and Vinny are making changes to the House of Crathes as they are moving there shortly. Fiona and I have moved to a new house, Ley House, which is now nearing completion. Work on both houses is being carried out by Stephen Birnie and his brother, Peter. For the last few years, it would have been carried out by our own company, Bancon, which has ceased with such work which competes with difficulty with businesses like that of the Birnie's. Stephen is married to Rebecca, daughter of the Estate fishing ghillie and gamekeeper, Brian Sim, whose father was my grandparent's chauffeur and later joiner and whose brother-in-law, Frank Garden was the founding manager of Bancon.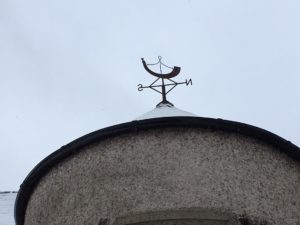 Stephen's father, John Birnie, has been helping his sons with the work on our houses. He used to work for the local blacksmith, James Craig, who made many items for the family over the years. and he made the weathervane which the Bowhills gave us forty five years ago. He told me that there was a debate about the 'mouth' of the horn which he was told should be shaped like that of a fish. Consequently he made it accordingly. I have had to tell him that, through no fault of his own, the mouthpiece is not that of a fish and I suggest that it is that of a wolf.