Charles J Burnett Esq. Ross Herald of Arms Extraordinary
The Moray Burial Ground Research Group was founded in 2003 in order to survey and record every burial ground in Moray, 140 in total, which includes the western part of the old county of Banffshire.
Since that year 60,000 names have been indexed and 55,000 photographs of gravestones and other memorials have been taken. The record of each graveyard is then published.
The Group are currently recording the Grange Churchyard and Cemetery which lies between Keith and Glenbarry in western Banffshire. Amongst the gravestones is one shown above bearing an impaled shield. As Honorary President of the MBGRG any stones bearing Arms are normally sent to me in order to give the blazon, or written description, of what is on the shield. Behind this shield lies an interesting story.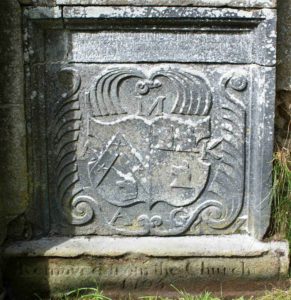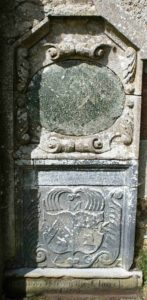 The complete memorial is shown here. It consists of two parts; an upper oval panel of Portsoy marble within a freestone frame, which carries an inscription in Latin, this will be translated later; a lower section made of dark blue stone carved with a shield and the initials M. A. K. and below A. G. These stand for Magister Alexander Ker and Anne Gordon. 'Magister' is an honorific title for the graduate of a university. The man involved was Alexander Ker, a graduate of King's College University of Aberdeen, who was the parish minister at Grange in Banffshire from 8th January 1652
until his death in 1693.
Alexander Ker was married to Anne Gordon and they had four daughters. Anne died on 16th August 1666 and was buried at the Grange Churchyard. The memorial heraldic stone was mounted on an interior wall of the old Grange church. The stone bears an impaled coat of arms; dexter, a chevron charged with three mullets [stars] with a unicorn head below, for Ker, sinister, three boar's heads couped, for Gordon.
Ker of Knock                                                                   Burnett of Sheddocksley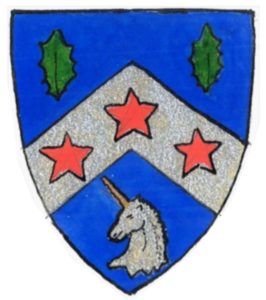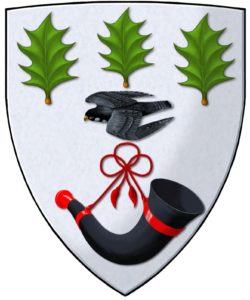 Two years after Anne died Alexander Ker married again, this time to Bessie Burnett, the third child and elder daughter of Alexander Burnett of Sheddocksley, a cadet of Leys. The estate of Sheddocksley lies on the outskirts of Aberdeen and is part of the Freedom Lands granted by Robert the Bruce to the Royal Burgh of Aberdeen. Alexander Ker and Bessie were married on 17 September 1668 in Aberdeen.
Some five years after the marriage Alexander Kerr petitioned the Lord Lyon for a grant of Arms which is recorded on page 172 of the First Volume of the Public Register of All Arms and Bearings in Scotland. He was granted; Azure, on a chevron Argent between two holly leaves in chief Proper and a unicorn's head erased of the Second, three mullets Gules i.e. a blue shield with a white chevron on which are three red stars with, above the chevron two green holly leaves, and below the chevron a white unicorn's head. Ker was also given a motto; VIRESCIT IN ARDUS VIRTUS – Virtue flourishes in difficulty.
Our interest lies in the fact that Alexander Ker decided to use two Burnett holly leaves to differentiate his Ker Arms from other Kers, and he also chose a motto which is not unlike the motto of the Burnett Chief – VIRESCIT VULNERE VIRTUS – Strength draws vigour from an injury.
Alexander Ker, 66 years old, died in 1693 and was presumably buried in the churchyard. An oval panel made of Portsoy marble, set into a freestone frame was mounted on an interior wall of the old church. The Latin inscription translates as follows: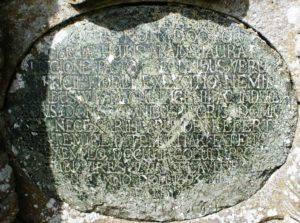 Alexander Ker, a learned man, although not a doctor, second pastor of this church after the Reformation, but second to none in the faithful discharge of his sacred duties; a man of great ability and unwearied activity, richly endowed with all the gifts necessary to a minister at home and abroad, taught, cultivated, and promoted, by voice, life, and example, truth, piety, and charity. Here, where he spent his strength, he laid down his remains, A.D. 1693, in the 66th year of his age, and the 43d of his ministry.
Remember we must all die.
Presumably Ker's widow and her four step daughters arranged the funeral, but they did not arrange, or possibly were unable to afford, to have a new armorial stone carved to show Ker's registered Arms impaled with those of Bessie Burnett of Sheddocksley. It may be Mr Ker's memorial was erected and paid for by the congregation who wished to remember their devoted minister. They may have composed the inscription and were more concerned to record his virtues rather than his status as an armiger.
The two memorials were originally inside the old Grange church but it had become ruinous by 1793. A new church was built a short distance away in 1795 and these two memorials, which had been separate, were placed together and built in to the outer churchyard wall. This explains the difference in stone and style.
Burnett genes have been shared with many other Scottish families, but to my knowledge this is the only Ker/ Burnett marriage I have seen recorded. The Ker, or nowadays Kerr, family is mainly associated with the Border region of Scotland, not the North-East.
Members of the House of Burnett who have ancestors from the Moray/western Banffshire area of Scotland might be able to obtain further familial information by contacting the Moray Burial Ground Research Group at www.mbgrg.org
I am indebted to Keith Mitchell Esq. Elgin, Mark Hamid, Lyon Office, Edinburgh, and John Burnett Esq. Tosheador, USA, for providing invaluable information and assistance,
along with various digital images for reproduction in this article.