On a warm summer day, Retired Chief District Court Judge Gilbert Burnett found himself in a flowering butterfly garden at the North Carolina Aquarium at Fort Fisher. He stood next to a six-foot, spherical sundial and beamed at three generations of his family. With a scholar's knowledge of history, a gentleman's understanding of longevity and a storyteller's love of details, he talked about time and timing.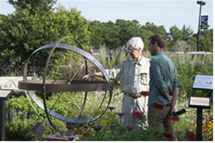 Burnett reminisced about how his grandfather once owned the land where the aquarium now stands and pastured cattle in the sandy scrub. Burnett shared his interest in the origins of timekeeping based on the sun. He expressed his love for family and an idea to create a memorial for when his time passed. He acknowledged the artistry and skill of local metal sculptor Dumay Gorham. And he spoke humbly of how all these pieces came together in this moment and left him, "Speechless…almost."
What he didn't say was how his generosity and vision helped create an educational tool and functional piece of art which will stand the test of time.
"Gil's generous donation to the Aquarium and his love of sundials has created a living legacy," said Aquarium Director Peggy Sloan. "Not only is this a gift to his family, it also enriches the experience of hundreds of thousands of Aquarium visitors each year."
Interpretation panels near the bronze sundial educate visitors on the evolution of telling time before watches and cell phones and how to accurately use the multi-dimensional sculpture in relation to the sun's position in the sky. In addition, the sundial base is emblazoned with lasting words of wisdom selected by Burnett, including the Rolling Stones lyric, "Time waits for no one."
With many thanks to NC Aquariums for this article form their September 1st Newsletter.
James C A Burnett