Alexander Burnett wins election for Aberdeenshire West and heads to the Scottish Parliament at Holyrood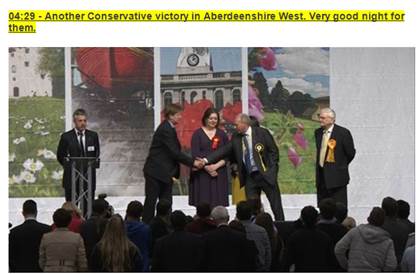 It was an exciting night on May 5th 2016 as Alexander Burnett won an historic victory to be elected into the Scottish Parliament at Holyrood, representing the constituency of Aberdeenshire West.
Alexander 's vote totalled 13,400 to 12,500  for  Dennis Robertson of the SNP – a 900 winning majority.
It was a good night across north-east region for the Scottish Conservatives and Unionists  as their vote doubled to nearly 86,000, up from 37,000 in 2011, which meant four regional MSPs.
The Scottish National Party fell just two short of overall majority government– with 63 MSPs.  The Scottish Conservatives replaced Scottish Labour as the main opposition party, with 31 MSPs – 16 more than 2011.
Alexander was sworn in officially as the Member of the Scottish Parliament for Aberdeenshire West during the following week.
The result was in marked contrast to a year ago when Alexander lost in the General Election in 2015.  What a difference a year makes!
Alexander has been made shadow Energy spokesman, at an important time for Oil and Gas industry in North-East of Scotland.
Well done to Alexander on his victory, and thanks to all those who have supported him over the last few years.  Congratulations to you!
Maiden Speech:  History in the making?
I hope readers will forgive highlighting a short extract from Alexander's first speech relating to Burnett family history and evoking James Burnett of Monboddo!
"Before I draw my remarks to a close, I hope that members will forgive me for a quick reference to my family history in this place and beyond.
My family has been rooted in Scotland for many centuries, earning our name from Robert Bruce, and we value the freedoms hard won by Scots over that time.
It has been over 300 years since a Burnett of Leys last sat in a Scottish Parliament, and on that occasion he notoriously voted against the import of French wine. Members can be assured that I will not be making the same mistake.
Not far from here in Edinburgh, during the Scottish enlightenment, another ancestor—James Burnett of Monboddo—hosted his famous learned suppers. At his table dined such luminaries as David Hume, Dr Johnson, James Hutton, Adam Smith, Joseph Black, James Boswell and Robert Burns, who were making new discoveries about the universe and geology and even tracing the evolution of man and language. I am therefore pleased by the First Minister's current focus on education, for we need a new Scottish enlightenment for the 21st century.
I look forward to serving Aberdeenshire West to the very best of my abilities."