After studying Fine-Art at the Sorbonne in Paris, French born Patricia Burnett-Stuart left France at the tender age of 21 to live at Crichie in Aberdeenshire with her husband Geordie Burnett-Stuart.
A teacher and practicing painter, Patricia finds inspiration in colour, from the cool and vivid palette of the Scottish landscape to the vibrant hues of Provence, where they spend part of the year.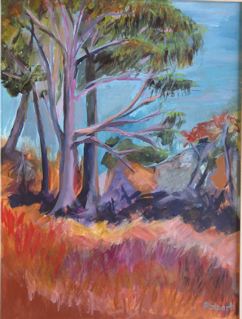 Pine Trees in a field at Barbebelle in Provence.
By Patricia Burnett-Stuart