Captain John Burnett – Jacobite
I recently received an enquiry from Charlotte Burnett Thrasher and her husband Jodie for any assistance in identifying one of her ancestors, Capt John Burnett, who showed up in Georgia in the early 1750's. He was a very educated man, signed land documents for relatives who could not write, was a cattleman rather than a farmer, was not listed as a loyalist or as a US war veteran, did not receive bounty land for war service, he purchased land confiscated from a loyalist, his sons were educated and two oldest served as Senators in the Georgia State legislature and third son was a county Judge in Alabama.
She had received a detailed reply from the Angus County Council archivist in Scotland, but in the absence of any information about the date and place of John Burnet's birth or the names of his parents, it was impossible to identify him with any degree of certainty. A search of the International Genealogical Index produced 119 entries for John Burnet(t) born between 1690 and 1730.
The Scottish History Society's "The Prisoners of the '45, lists two Burnetts: John Burnett of Campfield, Capt. of Artillery, and John Burnet, Ogilvy's regiment. From "Lists of Persons concerned" in the 1745 Jacobite Rebellion there was a John Burnet Esquire of Campfield a Captain of Artillery in the Rebel Service who was taken prisoner at Carlisle.  The entries for John Burnet of Campfield provided the following information.
The trials of Scots officers held at Southwark on 23rd August 1746 included that of John Burnet of Campfield – he was originally sentenced to death but was reprieved. His father was a gentleman in Aberdeenshire and he is generally spoken of as a person that was very well esteemed. . John Burnet was a captain in the Rebel's Train of Artillery and took a prominent part in the defence of Carlisle as a gunner officer and it is suggested that he was a deserter.
I can advise that Captain John Burnet of Campfield, who fought in the Jacobite Rebellion of 1745-46, was sentenced to death in Aug 1746. He was subsequently reprieved and pardoned on condition that he left the country. This John Burnet then became a successful merchant in Holland (with which Aberdeen had long-standing trading links) and had returned to Aberdeen by 1751 by which time he was advertising his business as a merchant in Aberdeen. John Burnet had married & had several children before the Rebellion and succeeded his father in the Campfield Estate in 1762. He is clearly not the Captain John Burnet(t) who is the subject of the enquiry.
John Burnet of Lord Ogilvy's Regiment was from Ballindarg and was held prisoner at Airlie, Montrose, Dundee, Canongate and Carlisle.. He had been a basic recruit (i.e.in the "other ranks" list) in Lord Ogilvie's Regiment. He was born in 1719 and was a miller to trade. He was sentenced to death but finally reprieved and transported from Liverpool on 22 April 1747on board the "Johnson" bound for Virginia. He apparently arrived in Port Oxford, Md on 5 August 1747.Unless he served somewhere else after 1747, he is unlikely to have had the rank of Captain although he may have "assumed" the rank.
Whatever the coincidences, it is unlikely that either of the above was the John Burnett who is the subject of the enquiry. There is a wealth of relevant information of interest for which there is insufficient space here to include but may do in a future edition. We would be pleased to receive comment.
The Editor – with gratitude for information supplied by Eileen Bailey and Fiona C. Scharlau, Senior Archivist of Angus County Council
To follow immediately the John Burnett article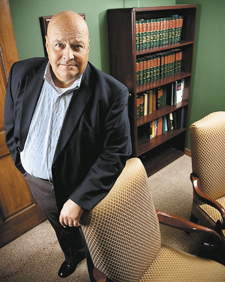 The other John Burnett
There is one John Burnett who has been neither sentenced to be executed or transported – yet! John was very instrumental in the early days of a Burnett society and the eventual formation of the House of Burnett and has acted as my Tosheador or representative and has always been an enthusiastic supporter and member of the Name and House of Burnett. John has had not managed to get to Scotland for a few years but we hope to see him here before long. Readers will have seen reports on his family in recent Banners.
James Burnett