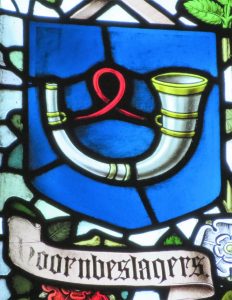 There is much debate about the origins of the Burnetts and the correct version may never be known.
My good friend and herald Gordon Casely, recently suggested that, by his reckoning, our ancestry goes back well beyond 1323.  For evidence, he provided me with the arms of the Guild of Hornmakers, a splendid piece of stained glass in a church in Antwerp. That guild has origins around 1100.
So by some careless genealogical juxtaposition and even more careless heraldic guesswork, he suggests that our lineage could be out of a 12th century hornmaker in Flanders.  And that there could be worse origins!