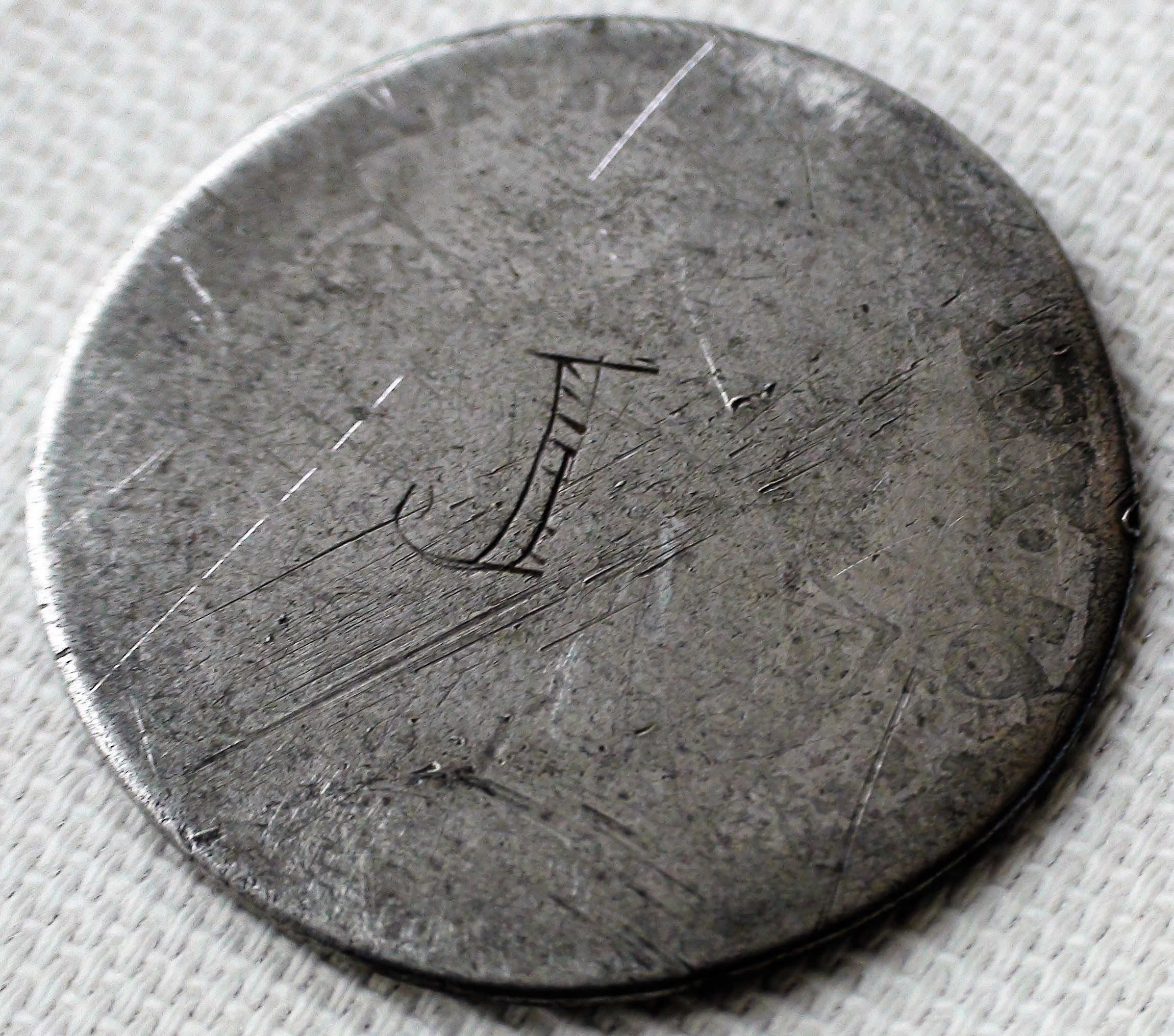 There are few Burnetts who have not benefitted in some way from the Input of Chris Engel. Chris had a business, Scotgold, which made many of the Burnett items which have been available in our shop, for most of the ancestry and historical print and artwork on display in the Family Room in the Castle at Crathes, and very much more. His wife, Hazel, is from the Anderson family who have in the past owned and farmed on the slopes of Scolty and gave us the Scolty tower key which is in the Family Room. It had to be kept locked for a while following an unfortunate incident when a cow climbed up inside it many years ago.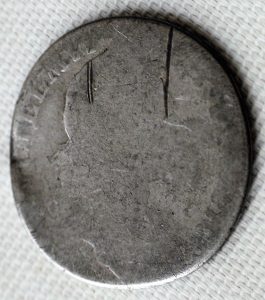 In his retirement from his business, Chris at one time successful gold-panner and something of an archaeologist and recently found this innocuous looking coin metal detecting near the River Dee at Birkenbaud a few hundred yards south of the Castle and along the line of the old Deeside Way.
It is very worn and hard to identify but what can be seen is that it is clearly a WILLIAM III SHILLING 1695-1701 and similar to the betterexample below.
William III (Dutch: Willem; 4 November 1650 – 8 March 1702), also widely known as William of Orange, was sovereign Prince of Orange from birth, Stadtholder of Holland, Zeeland, Utrecht, Gelderland and Overijssel in the Dutch Republic from 1672 and King of England, Ireland and Scotland from 1689 until his death in 1702. As King of Scotland, he is known as William II. As Burnetts will know, his arrival on the English Throne was partly engineered by Gilbert Burnett, Bishop of Salisbury.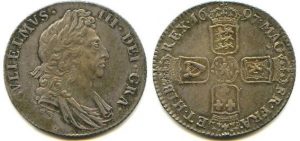 Due to the "Great Recoinage" during William III reign, hammered silver coins were to be withdrawn and replaced with milled coins instead. A lot of the coins were minted at local mints until 1698 to produce the large quantities required.
They have letters below the bust: B= Bristol, C=Chester, E= Exeter, N= Norwich & Y= York.
However, the coin has a letter 'J' on the other side denoting that it is also a love token similar to the example below which is somewhat better preserved.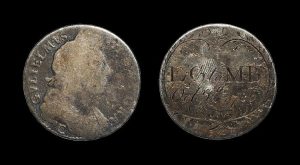 A Love Token is a coin that has been smoothed flat on one or both sides and then hand engraved and similar to the better example above. Engravings are most commonly initials of the giver. Names and dates were also popular and perhaps most special and scarcer were sayings and pictures. Who the 'J' was, we may never know. He or she may have been a Burnett.
Chris has kindly given us the coin which will shortly find its way to the Family Room.
The discovery by Chris is one of his many. He showed me a number of silver coins which he found in a field beside a former coaching inn, but also a Burnett coachman's button near his own house thereby suggesting that it might have at one time been occupied by a Crathes Coachman. It was corroded but still recognisable.. There are family coachman buttons in the Family Room at the Castle.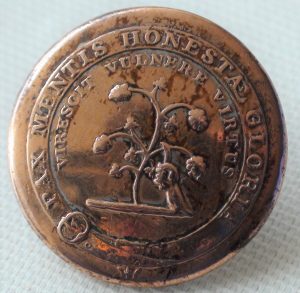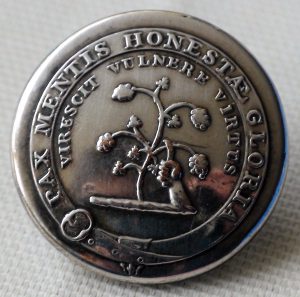 I started metal detecting a few years ago and found some old coins on the site of an old cottage. Although my initial excitement may have been something similar to that of Howard Carter on the discovery of the tomb of the Pharaoh Tutankhamun, I was brought down to earth when I was advised that they could be useful as washers if I bored holes in them.
On Chris Engel's discoveries, my enthusiasm for the above has returned.