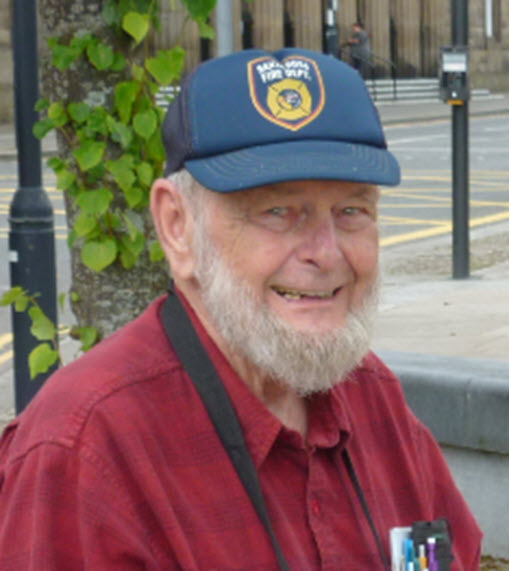 George Mead
We were very sorry to hear that George Mead passed away peacefully on Saturday, March 24th 2019.  George was one of the original members of the House of Burnett when it started as the Burnett Society and attended the first Gathering in 1992.  I was very pleased to have met him then and on later occasions and can share the sentiments of Jacky Daugherty and Jim Burnette in that George was a very interesting man and we enjoyed talking with him. He will be very much missed.
The last occasion on which I met George was at the 2015 Reunion in Las Vegas where George was presented with a Quaich cup at the 2015 Las Vegas dinner at the Golden Nugget in appreciation of his years of service to the House of Burnett.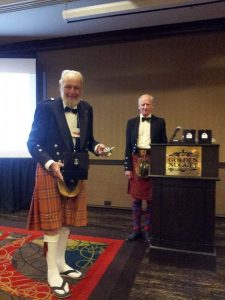 George after receiving his Quaich and also in his typical Highland Games attire: faded Burnett Dress kilt, brown leather sporran, military style shirt, sun hat with Burnett Clan Buckle pin, bare legs and flip-flops. His picture is with Burnett Lieutenant, Jim Burnette. Both pictures were taken during the Las Vegas Burnett Reunion in 2015.
Our president, Jacky Daugherty writes:
He spent his career as a firefighter in Sacramento, California. He and his wife did the Highland Games in Northern California for the Burnett Society which eventually became The House of Burnett, Inc., the organization we belong to today. After his wife passed away George  continued to do many of the Highland Games alone. George was a Convenor for the Burnetts at Highland Games for close to 50 years.
I met George when he travelled down to Ventura, California to do the Seaside Highland Games. The first time I saw the Burnett tent and George sitting in the back of the tent, smoking, with only his long, bear, flip-flop clad legs exposed, I just walked by.  The second year I spoke to him and became a member of the House of Burnett. After the third year I spent the weekend listening to George's stories of the Games he and his wife attended through the years. The following summer I went to a Burnett Gathering in Scotland. From then to this day I have done the Seaside Highland Games every October. George visited me for many years at the seaside Games, sitting in the corner of the tent smoking, going to see the Gordon Highlanders, with always a hot dog for lunch, sometimes adding a beer.
George and his daughter, Melissa, joined us all at the 2013 Burnett Gathering. He seemed so happy to be in Scotland again. I saw George less and less after that Gathering. He couldn't drive down to Ventura anymore.
George Mead will be missed. His contributions to the House of Burnett were immense.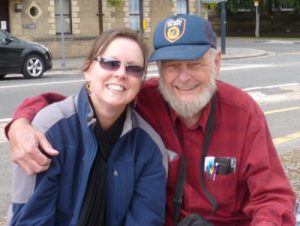 George and his daughter, Melissa in Perth during the 2013 Burnett Gathering
There will be a "Celebration of Life" for George on Saturday, June 8th, 2019 in the Recreation Grove, in Willits, California from 10am – 2pm Pacific. 
Recreation Grove Park: S Lenore Ave & Commercial Willits, CA 95490 United States.
Contact Jacky Daugherty for any further information, azlassie@gmail.com or jdaugherty@1791.com