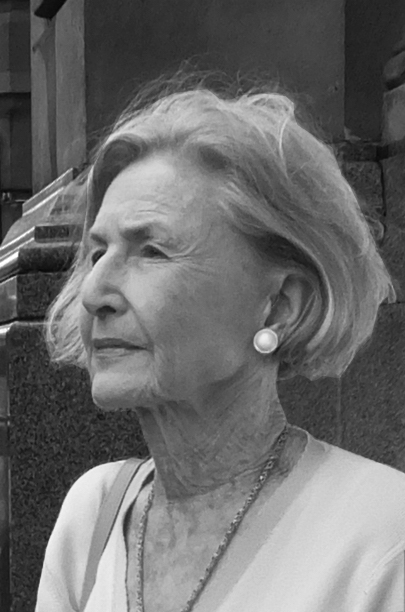 Susie
Many Burnetts from Scotland and elsewhere were very sorry to hear the sad news of Susie. Members of her wider family have been coming to Crathes since the 1970's and we have had some wonderful and enjoyable reunions  both in Scotland and in the United States and which have been largely thanks to Susie and her kinsfolk. Her last was at Crathes in 2013.
I can do no better than to include her obituary which describes her colourful and interesting life.
Love and best wishes to Susie and all of the family from all here at Crathes.
Jamie Burnett
Susie Jones, civic leader in Raleigh for over 50 years, founder of the Raleigh Junior Cotillion and "Christmas Celebration On the Mall," representative for North Carolina in The Republic of Georgia, devoted wife and mother of five beautiful children, passed away on February 3rd, 2020. She would have been 92 years old on Valentine's Day.
Mildred Deaton (Susie) Burnett Jones of Raleigh lived a marvelous, full life. Born February 14, 1928, the daughter of John Henry and Ruth Deaton Burnett of Burgaw, NC. She attended the Burgaw public school system, and UNC-Greensboro.
Growing up in the hamlet of Burgaw, Susie yearned for knowledge and adventure. When World War II loomed, still a child, she answered the air raid warden's call for volunteers serving as a lookout after school in the town watch tower spotting planes. Susie spent much of her teen years jitterbugging to swing music; as a young adult she was lead singer of the big band The Stormy Weathers. In 1950 Susie moved to New York City to study voice and modern dance. She worked at Gimbels Department Store as a buyer trainee and performed two solos in the off-Broadway musical "Dakota" prior to joining the Arthur Murray Manhattan Dance Studio. There, Murray routinely assigned his celebrity clients to her. On a scouting assignment for Murray in 1952 she returned to Raleigh and determined it was an up and coming town for a new dance studio; she met Dave Jones that same year.
Recalling his 1952 meeting with Susie, Dave said, "…she was a stunning brunette. High cheek bones gave her a hint of the exotic. She was sophisticated in appearance and manner, outgoing, animated and supremely self-confident. She laughed easily and often, and her spontaneous friendliness was subconsciously flirtatious. She was the most attractive, forthright and conscientious person I had ever met."
In 1953 she and Dave were married. They observed their 64th wedding anniversary on October 24th, 2017.
As president for 26 years of Burnett Enterprises, Inc., her family's land development company in New Hanover County, she originated the development of River Oaks subdivision on the Cape Fear River south of Wilmington.
She served as president of the Raleigh Fine Arts Society, vice president of the Raleigh Jaycettes and Raleigh Junior Woman's Club, and at various times served as director of the Raleigh YWCA, Raleigh Little Theatre, NC Museum of Art, NC Museum of History, NC Symphony, and was a Governor's Mansion docent.
She was a certified mediator for the NC Courts; and in the 1980's, at the request of the Wake County Board of Education, she wrote a booklet on ethics and integrity that was distributed to elementary school students. She was innovative throughout her life working with the NCSU School of Engineering on a design for a water-saving device as recently as April 2018.
Susie Jones published two books: the autobiographical When the Moon Stood Still (growing up in eastern North Carolina), and Life Was Full, a biographical synopsis of her parent's lives and courtship. She was devoted to her spouse, a life-long newspaper man, accompanying him to countless press events over the decades; she was sharp and informed, reading the News and Observer and New York Times daily.
Fascinated by new experiences, she traveled extensively in this country and worldwide during her lifetime. While in Tbilisi, Republic of Georgia in 1996 – her husband received the Knight International Press Fellowship to work with the emerging free press – she was authorized by Governor Jim Hunt to represent North Carolina. She and Dave spent three months as ambassadors for the Knight Fellowship and a North Carolina cultural exchange; working as a team professionally for the first time in their marriage to both of their great satisfaction.
Her last trip abroad was to her ancestral home of Scotland in 2014.
Susie's love of travel was surpassed only by her love of North Carolina; the Jones Family home of 53 years at 2120 White Oak Road, Raleigh, was a place of beauty and warmth cultivated by Susie and Dave where friends, neighbors and relatives enjoyed many special times, large and small. Other than her home, her favorite place was the family beach cottage built by her parents in 1936.
At ten years of age Susie left the Methodist Church, "her family pew," and became a Baptist, going to church thereafter on her own. She joined the Episcopal Church as an adult and was an active member at St. Michael's for 27 years prior to transferring to Christ Episcopal Church in 1982. Her spiritual passion and exploration of religions proved a life-long inquiry.
Mrs. Jones is survived by her four children and their spouses: Ainslie and Robert Uhl of Raleigh; Annetta and Norfleet Hoggard of Raleigh; Adam and Susan Jones of Chapel Hill; and Della and David Fried of Atlanta, GA; and twelve grandchildren: Hart, Colbern, Everett and Henry Uhl; Deaton Jones, Culbreth Jones and husband Joe Ferla; Frances and Edward Hoggard; Lillian and Ainslie Jones; and Benjamin and Joscelin James Fried; and her great-grand child: Jude Ferla. She is also survived by three siblings: Gilbert Burnett; Julian Burnett (his wife Vivian) all of Wilmington; Sylvia Crippen of Connecticut.
She was preceded in death by her parents, her sisters, Annetta Collins; Ruth Phillips; Phyllis Burnett; and Mary Elizabeth Quaintance; her eldest son, William Davis Jones IV (Davis) and her daughter-in-law, Karin March Jones; her husband of 64 years William Davis Jones III (Dave).
Susie was a small-town girl at heart always sharing her smile and willing to chat. She was courageous and persistent, advocating for cultural arts, leading civic projects and debating controversial politics. Her style, creativity, productivity, sense of humor and curiosity never faded. A brave soul, stoic, dignified yet easily moved by nature, beauty and the love of family and country; she loved and was loved.
A memorial service was held on, February 12th at Christ Episcopal Church, 120 East Edenton Street, Raleigh.. A private interment was held at Oakwood Cemetery.
In lieu of flowers, memorial donations were or can be made to The North Carolina Museum of Art (ncartmuseum.org), The UNC Hussman School of Journalism and Media (mj.unc.edu.com), Transitions LifeCare (transitionslifecare.org).