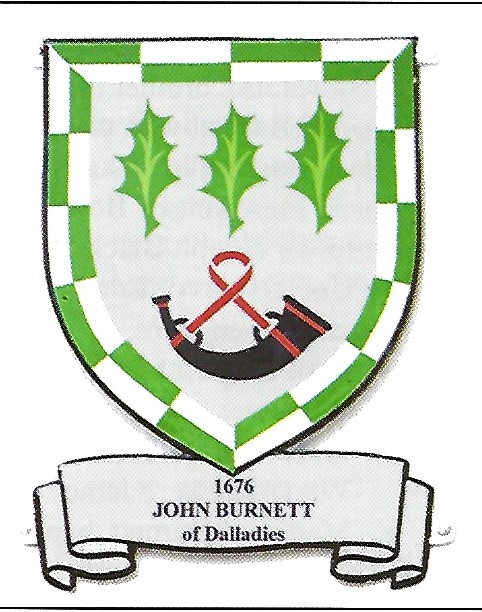 Our story starts with a Mr. James Burnett, born in 1742 at Drumoak, the 8th child of John Burnett of Daladies (1704- 1767) and Theodosia Stuart of Dens (1702-?) They were related to the Burnetts of Leys at Crathes Castle.
The lands of Daladies lie on the north bank of the River North Esk on the current boundary of Kincardineshire and the county of Angus. From Arms recorded, it has been deduced that his family was of Burnett of Leys. Charles Burnett, Ross Herald at Arms, has confirmed that John Burnett of Daladies recorded Arms containing the three holly leaves and the hunting horn in 1676
James's older brother, John, had went to Malacca in 1751 and returned six years later with chests of gold. Perhaps it was his stories of adventure and fortunes to be made that persuaded James to try his luck in the far east.
Around 1763, James indeed did set sail and moved to the city of Batavia (modern day Jakarta) on the Island of Java where he formed a business partnership with a Mr. Stephen Lieve-Garrison. The two men won a contract to provide a victualling service to the British garrison stationed at Fort Marlborough.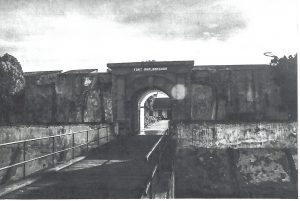 Fort Marlborough
Both men were held in very high regard and were granted honorary citizenship of Batavia, which meant that they could come and go as they pleased. They also acted as diplomats between the British and Dutch colonies, between which there was a lot of animosity and fighting.
Most accounts about James say that he made his fortune in the tea trade in India and Malaya, but the tea trade in Java was at its peak between 1740 and 1780 so it is far more plausible that it was on the Island that he traded. Java also exported opium and nutmeg so perhaps he played a part in that export market as well.
Around 1770, James had made his fortune and returned to Aberdeen. On his return he purchased a considerable area of land from Aberdeen merchant Mr. Alexander Livingston and built himself a mansion house at Countesswells. He also bought land at Cults and Bieldside.
James married Elizabeth Grant (1746-1831) in 1772,  the daughter of Sir Ludwick Grant of Dalvey. They only had one child, John, born in 1781, who went on to be the first Colonial Secretary of Van Diemen's land in 1826.
James died in 1782 from Pthisis (pulmonary tuberculosis).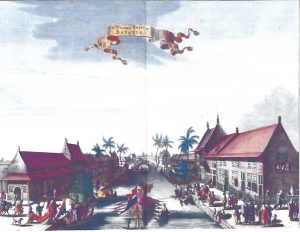 Batavia
ONGTONG
In all the accounts that have been written about Ong Tong, they all state that he came from Ong Tong Java Atoll,, and that is why he got his name, but when you consider that the Atoll lies about 150 miles from Java, then it's highly unlikely that James Burnett sailed up there looking for supplies from islanders that had a subsistence existence.
However, Ong Tong is a fairly common Chinese name and there were approx. l 0,000 Chinese living in Batavia around 1750, so it would be realistic to say that Ong Tong was his real name and that he was either Chinese or of Chinese origin.
There is no way of knowing why James and Ong met, perhaps he was a trader, or an interpreter or simply hired help, but one thing is certain, a close friendship formed between the two men.
Java during this time wasn't a pleasant place to live. In 1740, the Chinese tea workers staged an uprising against the Dutch and over 20,000 workers were massacred. Tensions ran high for many many years after. The British and Dutch were always fighting each other trying to control the export market for themselves. Tuberculosis was rife on the Island to such an extent that the life expectancy of Europeans was less than 50 years. An idyllic south sea island it was not.
It was, perhaps, against this backdrop that when James offered to take Ong to Scotland and give him employment, he took it.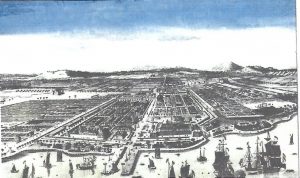 Batavia
It must have been a huge culture shock for Ong when he arrived in Aberdeen, but he must have settled down in his new job as valet to James Burnett.
In September 1774 he got baptised and took the surname Burnett. The transcript reads;-
"llth September 1774, James Burnett Esqr. Of Coutesswells had a Negroe Servant Baptised by the name Untong, being aged about         Years. The witnesses of this Baptism were William Smithy and Helen Tosh, both servants to Mr. Duff, Minister"
On the 8th of November 1774, Peterculter Church records show that Ongtong Burnett, of Mains of Countesswells, paid 2s and 6d for being three times proclaimed for marriage in one Sabbath.
There is no record of when the marriage took place or the name of his new wife. Their daughter, Henrietta, was born on the 17th of October 1778
Sadly his wife died shortly after
The 1778 List of Servants of the Burgh of Aberdeen records Ong as a House and Riding Servant to the Burnett family.
James died in 1782 and in his Will he left Ong,"An annuity of six pounds sterling during all the days of lifetime thereafter". (£6 = £520 equivalent in 2020)
Ong remained at Countesswells in the service of Mrs. Burnett until 1786. Records show his employment in 1785 as House Servant and Chaise Driver and in 1876 as a House Servant and Postillion Rider.
However, he did move to Gordonstoun House in 1786 to work for Sir William Gordon, who was a relative of Mrs. Burnett and employed as a House Porter with an annual salary of £4 4s During his time at Gordonstoun, Ong changed his name slightly, to Ontony.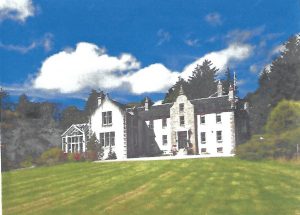 Countesswells House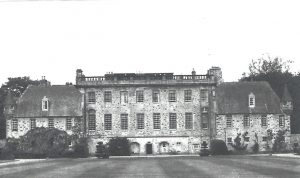 Gordonstoun House
On the 12th of April 1788, Ontony.remarried, his new wife being Margaret Ritchie. Unfortunately Margaret died on 18th December 1788 during the birth of their son, William. She is buried at Michal Kirk, Duffus. Young William died in 1791.
On the l 9th December 1790, Ontony married for a third time, this time to Elspet Hay from Fordyce, Banff. There is no more information on Elspet.
By 1791, Ontony had moved through the house ranks and was now Butler to Sir William. During 1795 Sir William died and it is not known how long Ontony stayed on at the house after that. The next record of him is at Slains Church in 1803.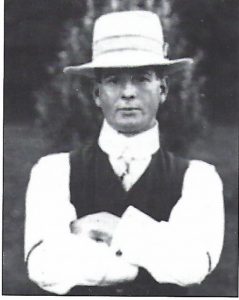 Joh Hansford Hardie, great great grandson of Ontong Burnett
Ong's only surviving child, Henrietta, married George Hardy or Hardie, Farmer, Knappema, Slains in June 1801 and the couple went on to have ten children, all of whom survived. There is no record of where Henrietta spent her early years.
We can assume that Ong moved in with them.
Ong died on 11th March 1811, aged 64 years, and is remembered on a head stone in Elion Kirk Yard which commemorates members of his son-in-law's family.
ONG  TONG'S MEMORIAL
His headstone is in the Kirk Yard attached to the Church of Scotland, The Square, Ellon. It lies to the rear of the cemetery beside the large holly tree. The headstone has inscriptions on both sides with tributes to the Hardie family. Ong's name appears on the East side, near the bottom.
The text reads:-
To the memory of William Hardie, old residenter in this parish and died May 9th 1794 aged 56 years. Also Janet Roland, his spouse who died Feb. 14th 1803 aged 63 years. Also their son John Hardie died May 9th 1793 aged 22 years. Also Ontong Burnett died 11th March 1811 aged 64 years. Also their Grandson William Hardie who died May 1st  1821 aged 20 years.