Burnetts from Ohio.
There are few Burnett visitors to Crathes in the winter months, but it was good to have James E. Burnett and his wife Molly, with their children Shannon and David from Ohio where Jim is a Construction Manager in the Pipelines and Facilities industry.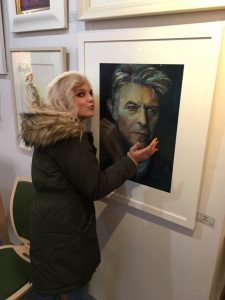 Molly's family (O'shea) comes from true home Galway Ireland to where they flew after Scotland. Hence Shannon, who appears to be a David Bowie aficionada, would like to go to College in London the UK. She has in mind to be a lawyer
Athens, Alabama twinning with Stonehaven
I was recently pleased to attend an event to mark the Athens, Alabama Bicentennial Birthday at Castle Fraser. The Stonehaven and North East of Scotland Twinning Group recently announced its intention to Twin with Athens and there was a two way televised discussion with the Mayor of Athens, Ronnie Marks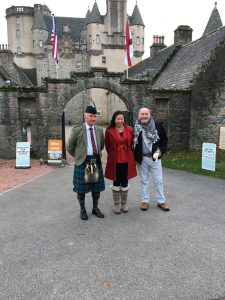 The event was arranged by Richard Holman Baird and Phil Mills-Bishop, (above) co-ordinators of the Twinning Group and the Guest of Honour was Ellen Wong, the new Principal Officer, US Consulate General in Edinburgh. Ellen Wong is responsible for all American Citizen Services in Scotland promoting the U.S. –Scotland relationship. She has served in Bangladesh, Bejing, Germany.